koun ras el hikma project
Koun Ras El Hikma is the latest coastal project on the North Coast launched by Mabany Edris Development Company in the Ras El Hikma Bay area which is ranked as the most beautiful coastal beach in the Mediterranean Sea.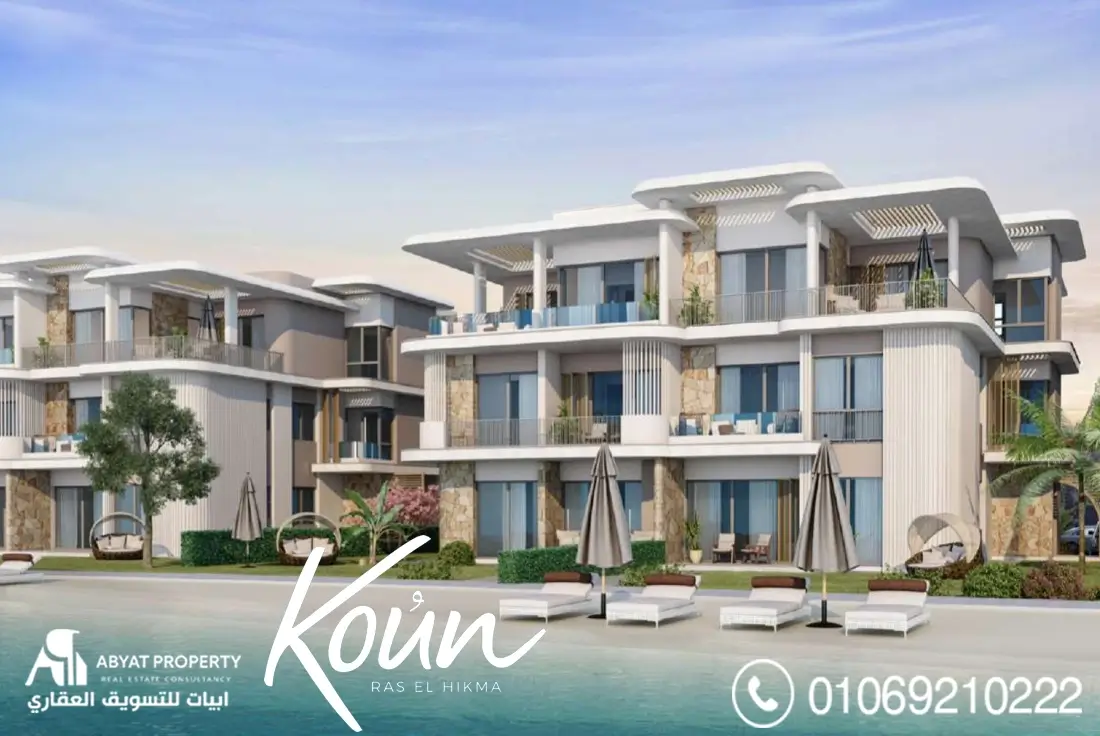 Koun North Coast is located in a very distinguished geographical location in the Ras El Hikma Bay area, which is considered one of the most beautiful tourist and coastal areas in the North Coast, which is characterized by its mild weather, pure turquoise waters, and sandy beaches.
Koun Ras El Hikma by Mabany Edris could be your ideal summer destination, which you might be looking for on the North Coast, which gives you more psychological comfort, relaxation, enjoyment of the natural scenery, and a wonderful view of the sea directly.
Koun North Coast Location
Koun North Coast is located specifically at kilometer 201 from Alexandria- Marsa Matrouh Desert Road in Ras El Hikma Bay area, close to the most famous and distinguished villages and tourist resorts that are located in that area.
And the following are some of the most popular places located near the village:
Koun North Coast

is located near Caesar Sodic North Coast Village.

The village is also distinguished by its proximity to Mountain View Ras El Hikma.

The project is also located near the Caesar Bay Resort project.
Koun North Coast Space
Koun North Coast project is built on an area of ​​106 acres, which includes a variety of residential units, including chalets, twin houses, townhouses, duplexes, and stand-alone villas on the lagoon, the addition that the village was built in the form of gradual terraces.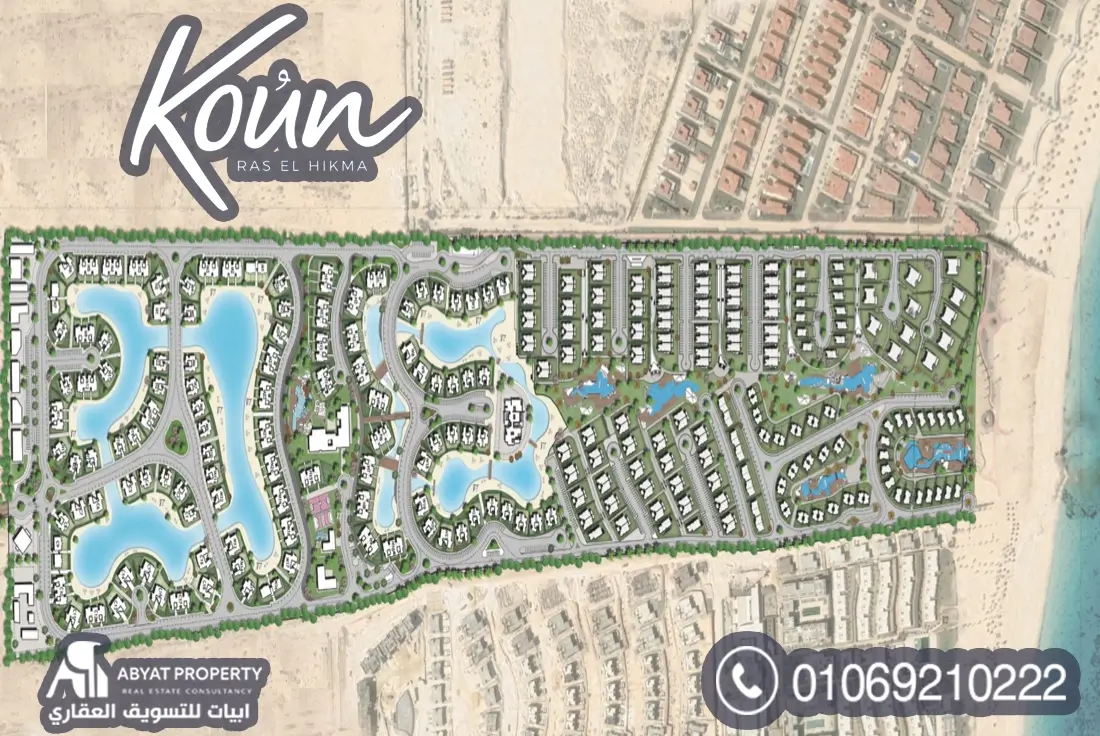 Mabany Edris was keen to standout services and recreational activities in Koun Ras El Hikma by allocating over 85% of the total area space for it, and the other space which is 15% for all construction in Koun North Coast. And finally, the developer company was keen to enjoy all units in the village a wonderful view of the sea, water bodies, and the lagoon, which covers an area of ​​10 acres.
Koun North Coast Design
Koun North Coast project was designed with the most luxurious international designs. The company that owns and developed the project, Mabany Edris, was keen to pay attention to the interior and exterior designs of the resort to make sure that it is designed at the highest level and suits all tastes. 
Architecture Consultant
Mabany Edris cooperated with this new project with the best Architecture Consultant, to stand out this project than other projects on the North Coast. The company sought the help of El Habrouk Company, which was established in 2005 in Mohandessin in Giza.
El Habrouk also creates a variety of works spanning architecture, landscape, interior design, and urban planning and design. The architecture company is specialized in residential and community-based projects.
And the following are the most important previous projects of El Habrouk Company:
Amwaj Village North Coast for Al-Ahly Sabbour Development.

Beau Island North Coast Resort.

Pyramids Heights project in Giza hadaba.

Sodic One and Sodic West.

Villette Sodic in New Cairo.

Hyde Park.

Zoya New Giza.

Jade October.

Rokan Dubai.

OAk Park.
Services and Features in Koun Ras El Hikma
Koun Resort North Coast has a distinguished set of services and advantages that make the village stand out from other projects and tourist resorts.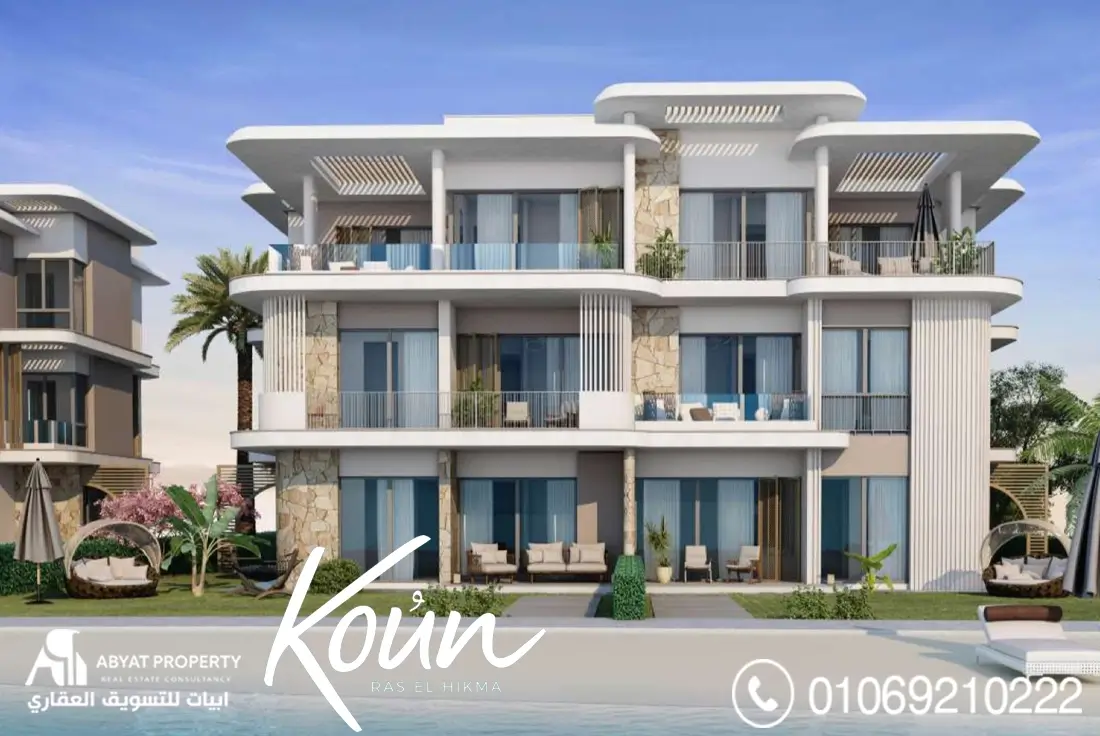 Among these services we mention are the following:
The project has vast areas of green spaces to provide more picturesque landscapes.

There are many recreational activities on the beach for all residents to have fun.

There is also a big lagoon on an area of ​​10 acres.

Various bodies of water.

The project contains an integrated commercial area to make shopping.

swimming pool with different spaces and depths to suit all groups of age.

There is a Kid's area for entertainment to develop their skills.

There is also an international hotel that offers the highest level of hotel services.

A pharmacy that provides all medicines and personal care products to all of the village residents.

Administrative services and management offices.

There are many water sports.

A Health club that includes Gym, Spa, and Jacuzzi.

Medical clinics provide all medical services and deal with all emergency cases.

The project provides laundry and cleaning services.

Hypermarket to buy all everyday needs.

Mosque to perform daily prayers.

There are high-quality security services throughout the day, in addition to surveillance cameras, and other latest methods and security devices.

Sports fields include football, tennis, basketball, and other sports.

Walking and cycling path.

Cleaning services.

Koun North Coast

also provides golf cars to transport easily in the village.
Koun North Coast units' spaces
Koun North Coast includes a group of luxury units, including stand-alone villas, twin houses, townhouses, chalets, and duplexes. And next, we will show you available unit spaces in the village:
One room chalets space starts from 60 square meters.

Two-bedroom chalet spaces vary between 73: 90 square meters.

Three bedrooms chalet spaces starting from 115:130 square meters.

Duplex is available also in the village with spaces starting from 155 square meters.
Koun Sahel units' Prices
Mabany Edris Development Company was Keen to offer the units in Koun Ras El Hikma village at a competitive price that make it a good opportunity for everyone looking for the best unit that enjoys a direct view of the Mediterranean Sea, many services, recreational activities, and competitive price at the same time.
The prices in Koun North Coast came as the following:
The average price of one-bedroom chalets is 2,300,000 EGP.

The 2-Bedroom chalet's average price is 2.900.000 EGP.

The average price of 3-Bedroom chalets is 4.100.000 EGP.

Duplexes average price in Koun North coast is  5.250.000 EGP.
Koun North Coast Payment Plan
The developer company offered through this new project a flexible payment system that suits all its client's capabilities, as the client can get his own units in the project and pay the total amount over 9 years.
Soon, the developer company will announce the prices for all units in Koun North Coast for those who are interested in reserving their own unit in this new distinctive project.
Investing advantages in Koun North Coast
Koun North Coast Village is an integrated tourist city that contains the largest number of recreational services that meet all the necessary needs of life, where you can enjoy the most beautiful landscapes and a wonderful direct view of the sea. All these features make all the village units carry a big investment value for all units' owners.
Take advantage of this new opportunity and own your villa or chalet in Koun North Coast, with the best price and flexible payment facilities.
About the Owner Company
Mabany Edris Development Company is one of the largest real estate companies in Egypt with more than 20 years of experience since its establishment in 1998.
During those past years, Mabany Edris has worked to establish its bases in the Egyptian market by implementing many residential buildings that work to meet the common needs of customers. 
Mr. Mohamed Abdel Fattah Idris is the Chairman of the Board of Directors for Mabany Edris Development who led the company towards growth and stood it out among the top developers in the Egyptian real estate industry.
Edris Buildings Company has also strategically developed its projects to offer through it more choices with larger services through many different residential complexes and commercial centers that operate the services of these complexes. 
Mabany Edris Company has grown on strong management that has the same strategy and methodology, as the company's board of directors and a group of shareholders are interested in quality, workmanship, and strategy in work to better meet the customer's needs by designing a unique model for residential life.
In the nineties of the last century, the company did several buildings in Nasr City, this has contributed to the formation of a strong reputation for the company, and that it has become a trademark in the Egyptian market.
Finally, Mabany Edris Company aims to be a real estate developer with a vision and credibility that is reflected in various sustainable projects for all its clients.
The most important projects and works of Mabany Edris Company
Next, we will mention the most popular projects implemented by Mabany Edris Development Company:
Green One project, which is one of the company's most important successes in all its history.

Green 2 Compound.

Green 3 Compound.

Green 5 Project.

Palm Gardens Compound.

Construction of some buildings and residential buildings in Nasr City and Heliopolis districts.

It also established Mansourieh Compound in 2001.

It also carried out some entertainment projects, like the Tivoli Dome on the 6th of October.

The Block Sheikh Zayed Mall.

El-Masrya complex for warehousing.

It also worked on developing more than 12 real estate projects.

The company owns 7 residential projects.

In addition to that it owns 4 services, industrial, medical, administrative, and commercial projects.

Rofaida Medical Complex in Sheikh Zayed City.
Contact us now at 00201011564040, and one of our sales representatives will reply to you to provide you with all the details of a Koun Ras El Hikma.
For More Info  about  City Of Odyssia Sabbour in Mostakbal City Call us 01069210222