You may be wondering about Solare North Coast Prices to reserve your own unit in this giant project launched by Misr Italia Development in the North Coast, especially in Ras El Hikma area.
In this article, we'll inform you briefly about Solare North Coast Prices, some of the features, and the most important details that this new project enjoys.
Solare North Coast Prices
Solare North Coast is the latest Coastal project implemented by Misr Italia Development to be an iconic tourist project on one of the best beaches in the world, Ras El Hikma Beach. 
The developer company offers Solare North Coast Prices to be suitable for major clients with their different capabilities. Of course, the prices in this new project are very competitive than other coastal projects compared to the wide services, facilities, and recreational activities provided in Solare Ras El Hikma.
Misr Italia offers you a golden opportunity through which you can own a chalet in the most prestigious villages of the North Coast, as the prices of Solari Ras El Hikma are very competitive, and vary according to the type of housing unit, its area, design, and location within the project, and the following is an overview of the average prices:
Solare Ras El Hikma

chalet prices start from 3,900,000 EGP up to 4,700,000 EGP.

While the prices of Solare North Coast townhouse units range between 8,300,000 EGP to 9,200,000 EGP.

The prices of Solari Twin House units range from 10,800,000 EGP up to 12,200,000 EGP.

Standalone villas in the village are available at prices ranging from 11,950,000 EGP up to 15,200,000 EGP.
Solare North Coast Location
Solari North Coast Village is distinguished by its distinctive location in Ras El Hikma Bay area, which is considered one of the most important tourist areas on the North Coast. This area enjoys stunning natural beauty, sandy beaches, and clear turquoise waters. The following are some details about the features of Solare Village Location:
The village is located about 3 hours away from Cairo and 2 hours away from Alexandria.

It is also located about 20 minutes away from Sidi Abdel Rahman area.

The village is only a minute away by car from Caesar Bay Hotel and Sidi Heneish area.

And it is also located near New Alamein Airport.
Solari North Coast Village location, is really an ideal location for living and investment, as it has wonderful landscapes and a mild climate most of the year.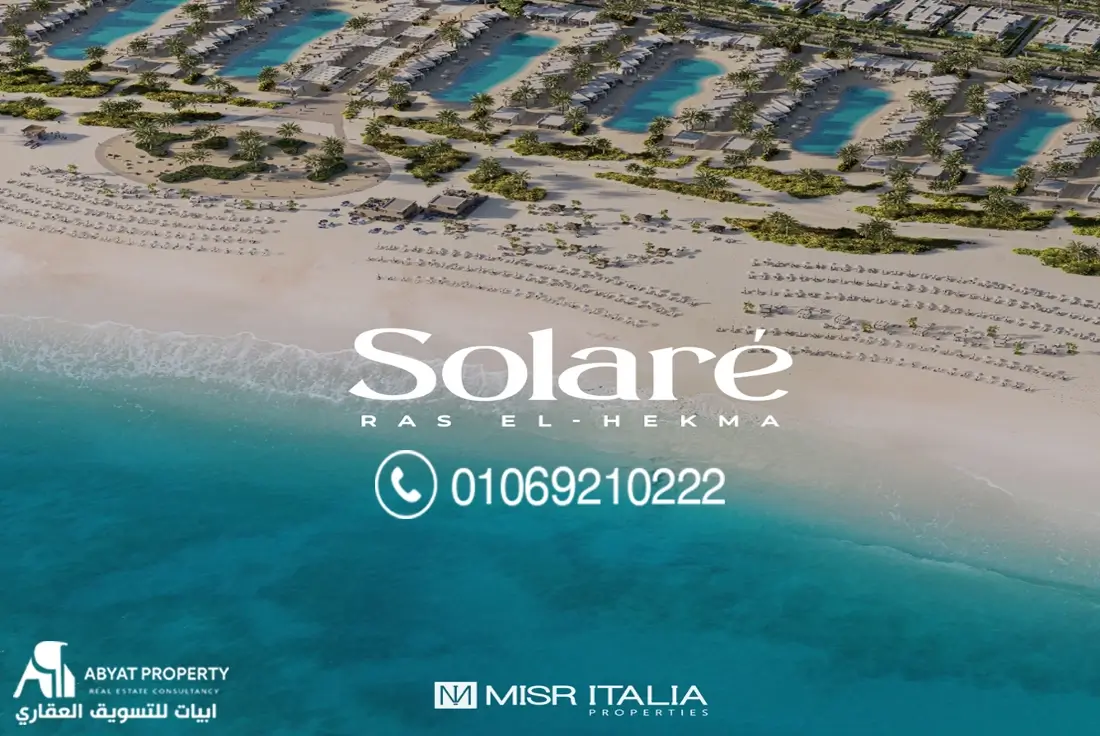 If you want to own a unique chalet at an irreplaceable price, we recommend choosing Solari Ras Al Hikma to be your main destination, because of its strategic geographical location, in addition to its proximity to all the main roads and axis, addition to privileged location. All these features could be the best reason for you to choose Solari Ras El Hikma and take advantage of this wonderful opportunity.
Solare Village Space
Misr Italia established Solare North Coast project on a large area of ​​386 acres, and it was divided into 10 different zones with various characteristics and features, making it a giant tourist city in the heart of the North Coast.
This area includes many units that have a very wonderful view, including stand-alone villas, twin houses, townhouses, and luxurious chalets with distinctive spaces. This project definitely is your real chance to own a chalet on the most beautiful beaches of the Mediterranean.
Misr Italia has given great attention to the green spaces in Solare Ras El Hikma, as it occupy the largest percentage of the entire project, and the project also provides a large number of recreational facilities and services that meet the needs of the village residents.
There is a long beach of about 1 kilometer in Solare North Coast in the blue clear water of the Mediterranean sea, in addition that the percentage of water areas is 115 thousand square meters.
Solare North Coast Design
Solare Ras El Hikma is built on a system of gradual terraces that are 31 meters above sea level, providing wonderful panoramic views of the sea and very impressive landscapes that inspire peace and tranquility.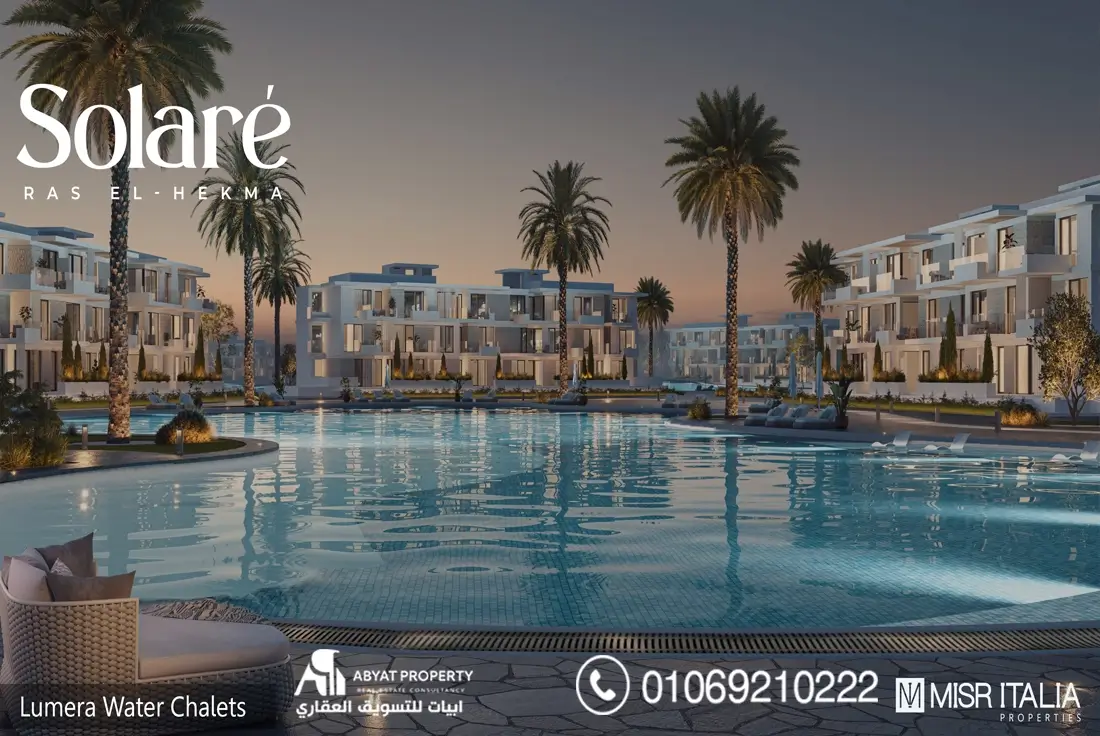 Solare North Coast project was designed in a modern and elegant style, inspired by the classic Italian style, and combines elegance, luxury, and modern comfort, in addition to the well-designed and comfortable design of the interior and exterior spaces, which makes it ideal for enjoying residence or investing in it.
All units are characterized by elegant and luxurious designs that create an atmosphere of luxury and relaxation, and this wonderful design by Misr Italia makes Solare Ras El Hikma one of the best tourist villages on the North Coast.
Solare Ras El Hikma services and facilities
Solare project provides many services and facilities that meet the various needs of customers and investors, and among these services are the following:
Solare Ras El Hikma includes a number of swimming pools with different depths and spaces, suitable for all age groups.

The project has wonderful crystal lagoons that give all the units charming and beautiful views.

Solare Ras El Hikma

includes vast green areas, landscapes, and beautiful gardens.

There are sports clubs and a gym equipped with the latest sports equipment.

There is a shopping center that contains the best international and local brands.

The village includes restaurants and cafes serving the best international and local dishes and beverages.

There are many diverse recreational areas for children and adults.

The project includes sports fields, fitness areas, and jogging areas.

There are dedicated places for cycling and jogging and stations for electric scooters.

In this large project, there are allocated areas for barbecue and relaxation.

The village provides security and guarding services around the clock.

Camera surveillance is distributed in all the village angles. 

Garages organize cars and prevent their accumulation inside the village.

A dedicated area for children (Kidz area) to play and develop their own skills.
Main Features of Solare Ras El Hikma
Solare project has many features that make it an excellent choice for living or investment, the most prominent of which are the following:
Solare project is located in New Alamein City on the Egyptian North Coast, in a strategic location close to many of the main tourist areas on the North Coast, making it an ideal place to relax and enjoy vacations.

Solare project provides many services and facilities that meet the various basic and recreational needs of customers and investors.

Solare project is characterized by modern and luxurious designs and high-quality residential units, for all those looking for sophistication and luxury.

The prices of Solare Ras El Hikma are very competitive, which makes it an excellent opportunity for investment, with various options of payment systems that are offered, which makes this opportunity available to a large class of investors and buyers.

Solare project is distinguished by the developers' commitment to quality and adherence to international standards in design and construction, which makes it a reliable project that allows residents and investors to enjoy high returns in the long term.
Don't miss this wonderful opportunity and book your unit now in one of the most prominent coastal projects located on the North Coast at present.
Just call us at 00201011564040 and one of our sales representatives will respond to you, to answer all your questions and give you all the information you need about Solare North Coast.