Dose North Coast is a new project presented by Akam Al Rajhi Group Development, which presented a distinguished launch on the shores of the North Coast. The company started to receive reservations for this new project, which is located in the Sidi Abdel Rahman North Coast region, after its announcement of opening the reservations doors.
This edifice will be built on an area of 125 acres, and the amount of its investment reaches up to 8 billion pounds. Akam Al-Rajhi through this project offers a group of tourist units overlooking the sea with a full finishing level and international designs and with installment systems without down payment up to 8 years.
And below is all the information about DOSE North Coast by Akam Alrajhi.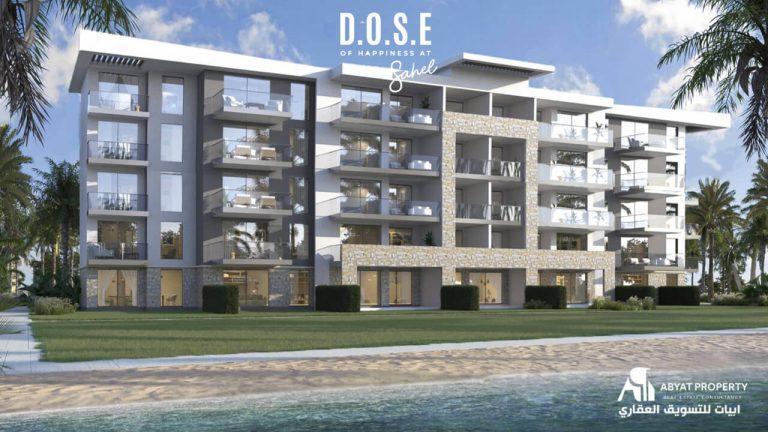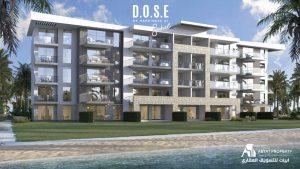 Dose North Coast Location
Akam Al-Rajhi Deveopment chose a strategic and exceptional location for it new project Dose North Coast village, as it is specifically located on the North Coast at kilometer 174 from Alexandria-Matrouh Road, in the Sidi Abdel Rahman area, one of the most beautiful coast of the Mediterranean Sea.
Places near DOSE North Coast by Akam Alrajhi.
The village is located near Ras El Hikma Bay and New Alamein City.

It is also distinguished by its proximity to the Dabaa axis, the new Fouka Road, and the Sidi Hanish area.

In addition to its proximity to the largest tourist villages such as La Vista, Mountain View, Marina, and Amwaj North Coast.

Among the advantages that

Dose North Coast

has is its proximity to Wadi El Natrun and New Alamein Airport.
There are countless advantages that the village's location embraces, and this is what the Akam Al-Rajhi Group has been keen to highlight during the Dose North Coast project. Where you are surrounded by all the important roads and main axes, and the largest tourist villages in the Sidi Abdel Rahman region.
Salt North Coast Space
Dose North Coast was built on a vast area that makes it a complete entertainment city. Where excavation and construction work has begun on a plot of land of 125 acres, and the depth of the village is 1000 square meters. The space was designed between different tourist units and multiple entertainment services.
As the tourist units vary between chalets and villas, all of which overlook the sea in a distinctive way. In addition to a large part allocated to green spaces and artificial lakes in the village.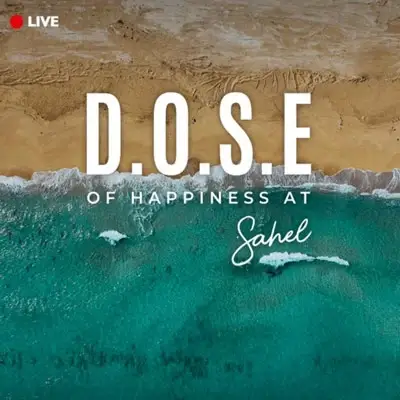 Dose North Coast Design
Dose Sahel project was designed in cooperation with experts and the largest engineering cadres in Egypt and in the Arab world within the framework of Akam Al-Rajhi's keenness to inaugurate this edifice in a manner worthy of its name. One of the most important advantages of Dose North Coast is the view that every unit enjoys in Dose North Coast, thanks to the engineering design that came on several terraces to allow you to have a clear and direct view of the beaches of Sidi Abdel Rahman.
Services & Features in Dose North Coast
There is no limit to the services and Features that Akam Al-Rajhi Village Dose North Coast enjoys. The volume of investment allocated to the project contributed to the availability of a large part of the means of luxury in the village, especially since all the village units were built on only 20% of the total area, and the rest of the area is just allocated for services and green spaces. And among those available services are: 
A wonderful Landscape that includes many green spaces and beautiful lakes.

Dose North Coast has a stunning Crystal Lagoon.

The village provides an allocated Track for running and cycling away from cars.

Dose also provides a beautiful Tourist walkway for all residents.

A group of Restaurants and cafes that serves the most delicious plates and beverages.

There is a commercial area including a Shopping mall to make shopping from the best local and international brands.

Kids Aria for children to play and develop their skills.

Swimming pools with varying sizes and depths to suit all age groups.

There is also a Club House in Dose Sahel.

A big social Club for all family members.

Many beach activities to have an excellent time on the beach of Dose North Coast.

In Dose Sahel you can do all sports like Gym, tennis courts, football and basketball.

There are security cameras all over the village to monitor all the area 24 hours a day.

And there is a Guard and security system at the highest level to provide safety in the village.

A Garage to organize cars inside the village and prevent their accumulation.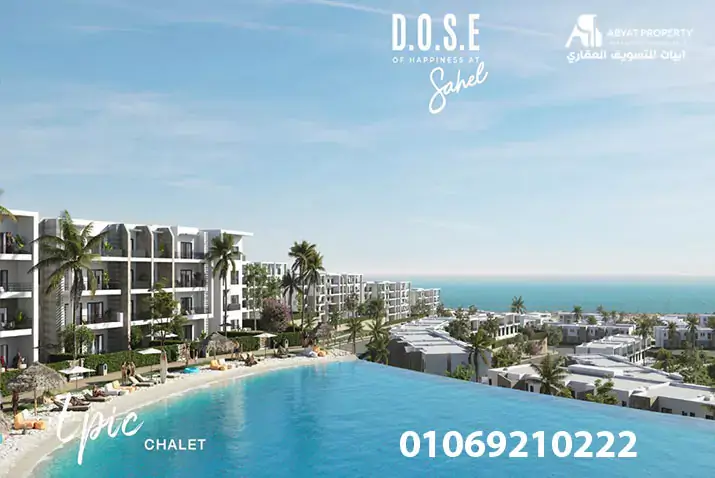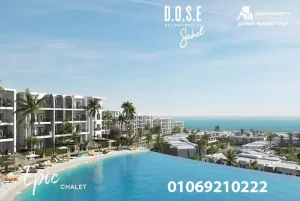 Dose North Coast Unit Spaces
Dose North Coast has a variety of unit spaces that suits a large segment of people, through several tourist units that occupy a 20% of the project total space, and the rest area is allocated for other services, facilities and recreational activities. 
And the following is the spaces that different unit types start from in Dose North Coast:
Chalets that consist of one room one-room chalets start from 70 square meters.

Chalets with two-rooms start from 98 square meters.

And finally, chalets with three-rooms start from 126 square meters.
Dose North Coast Prices
Dose North Coast project has multiple chalets, as well as townhouse units, The Company also offers hotel chalets complete with furnishings and air-conditioning in this project. 
Prices in Dose Sahel are appropriate, and the company offers exclusive offers and discounts for all units' prices on the occasion of the opening. 
And below is an overview about unit prices in Dose North Coast:
One-room chalets start from 70 square meters and its prices start at 4,250,000 EGP.

Two-room chalets start from 98 square meters, and the prices start from 5,350,000 EGP.

A 3-bedroom chalet with a space of 126 square meters is starting from 8,130,000 EGP.

All units will be received with a super luxe finishing and with air conditioners.
Town House
Townhouse units in Dose North Coast village start from 156 square meters, and its price starts from 17,200,000 Egyptian pounds.
Independent villas
There are also stand-alone villas in Dose North Coast with various spaces, and with prices starting from 31,350,000 Egyptian pounds.
Own now your unit in Dose North Coast Village, and take advantage of it on the shores of Sidi Abdel Rahman, and invest with one of the largest Saudi and Egyptian companies in the real estate market, Akam Al-Rajhi for Construction and Real Estate Development.
Dose North Coast Payment System
Akam Al-Rajhi Development Company opens reservations at Dose North Coast Village, and presents flexible payment facilities of up to 8 years without any interest. The company was keen to reach the largest possible number of customers and investors through these systems, including the following:
Paying 5% down payment and the rest in installments over 6 years.

Paying 10% down payment and the rest in installments over 7 years.

Paying 10% down payment, another 5% after 6 months  and the rest over 8 years.
About Akam Al Rajhi Development Company
Akam Al Rajhi Development Company is a distinguished partnership that brought together both Akam Real Estate Company and the Saudi Al-Rajhi Group that have invested in more than one field, including agriculture, foodstuffs, and the real estate sector. 
Al-Rajhi Group enjoys a huge financial mantle that makes it one of the largest companies in the Kingdom of Saudi Arabia and the entire Arab world.
Al-Rajhi Group was established in 1992 AD through the sons of Sheikh Saleh Al-Rajhi. 
At the beginning of its establishment, it invested in the field of contracting, operation and maintenance. And just after a few years, the company was able to enter the Saudi market with more than one investment field, until it became the largest investment entity in the Kingdom of Saudi Arabia and the Arab world.
Chairman of the Board of Directors: M. Abdul Wahhab bin Saleh Al-Rajhi
Al-Rajhi Group was also keen to provide a high level of services in all categories in which it invests. Such as the field of building, construction, maintenance, operation and commercial supplies of sanitary, electrical and mechanical materials, it was also interested in its investment in the field of manufacturing, specialized and diversified agriculture, information technology infrastructure, networks, business solutions, import and export fields, security and safety systems, as well as its investments in the food and catering industries.
Areas in which Al Rajhi Group operates
Operating and Maintenance.

Food aid and catering.

Agricultural investment.

building materials trading.

Food trade.

Real estate and contracting.

information technology.
And for the other partner Akam Real Estate Company, it is a joint stock company consisting of "Residence" Real Estate Company, El Maqabed Saudi Company, Benayat Real Estate Investment and Development Company, and Faisal Bank. 
Akam Development company targeted the new cities, as it carried out more than one project in the new Administrative Capital, including:
Akam's previous work
Scenario New Capital Compound, which is a residential compound built by the company in the R7 area near the Sefarat district, the Diplomatic district, and the Green River. The company offers through this project residential units on an area of 40 acres with flexible installments.

Ainava New Capital Mall, is an investment project in the seventh residential district that is located near the Al Sefarat neighborhood, next to the British University, and steps away from the diplomatic district, the government district, and the Green River.

The Scene 7 New Capital project, which is a residential compound with apartments and villas also in the R7 area, is distinguished by its extension on the 90th Street and the central axis directly, overlooking 4 main streets and just minutes away from the Green River.,
Akam Al Rajhi Real Estate Development Now is a result of the partnership between those two previous companies to create a huge entity called Akam Al-Rajhi Real Estate Company, a name that carries extensive experience as we mentioned before, and a large investment volume. 
Today, Akam Al-Rajhi Real Estate Development is offering its first business in the North Coast with an investment size of 8 billion EGP, which is Dose North Coast Village.
Reserve your own unit in one of the most distinctive coastal projects in the North Coast DOSE North Coast by Akam Alrajhi.
By contacting us at 01011564040, and one of our sales representatives will respond to you as soon as possible to provide you with all the details, and answer all your inquiries about the Dose North Coast Project.