Telal north coast project
Telal north coast  is one of the most prestigious and luxurious villages on the North Coast. It was specially designed for everyone looking for pleasure and psychological comfort away from the pressures, tensions, and hustle and bustle of city life. It guarantees its residents a life full of happiness and enthusiasm and gives them the finest ways of life.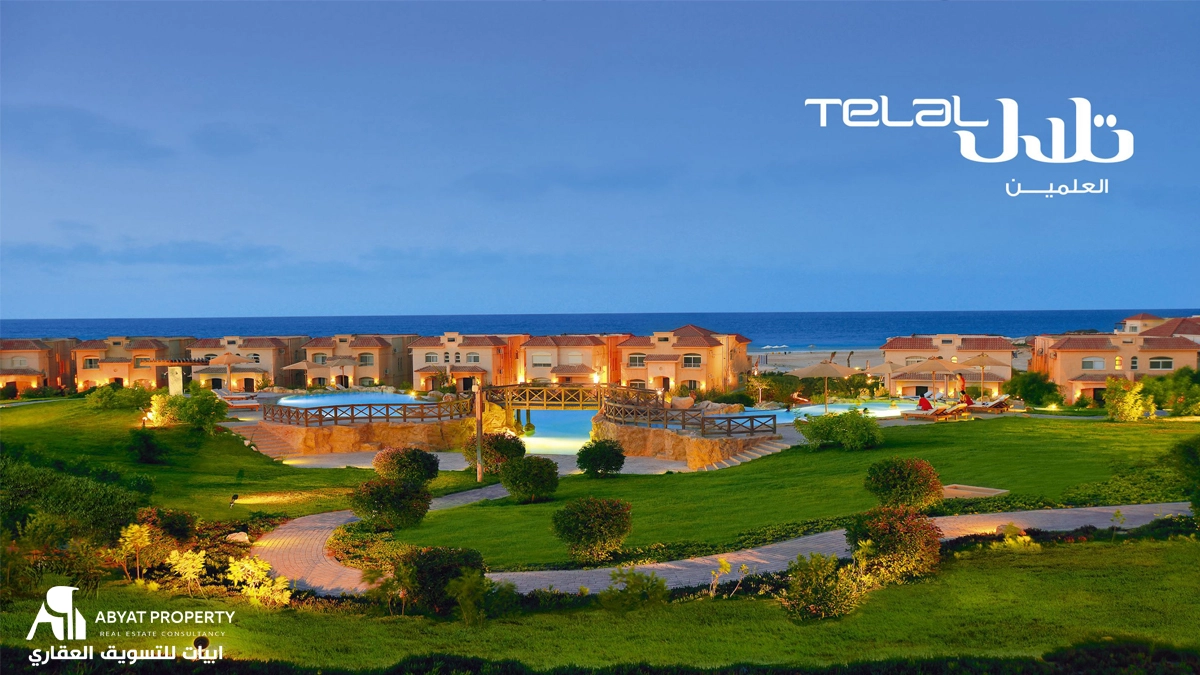 It developed the Telal North Coast project Vision Group Real Estate Development Company, It is one of the largest and most important companies in the Egyptian real estate development market. Which was based on the implementation of major real estate projects in Egypt and offering them at competitive prices. convenient payment systems, And of the highest quality.
Telal north coast location
Telal north coast is located in Telal North Coast In a very privileged location on the North Coast near many important roads and the most famous villages and tourist resorts, It is located in a very strategic location, specifically at kilometer 143 on the Alexandria-Matrouh Desert Road, in the most famous area of the North Coast, which is the Sidi Abdel Rahman area, which includes the finest villages of the North Coast at all.
Among the most important geographical features of the North Coast Hills are the following:
The village is only one hour away from New Alamein Airport.

North Coast Hills

is located

close to the famous Hacienda Village, about half an hour away.

Telal North Coast

is located

just an hour and a half away from Alexandria.

As for the city of Marsa Matrouh,

the northern coast hills are

only two hours away.

Finally, Tilal Village is located near many other famous villages.  Such as Marassi North Coast Resort and Cali Coast North Coast.
The area of Tilal North Coast Village
Telal north coast Village is located on the North Coast On a huge area estimated at 334 acres, divided between 20% for buildings and residential units, And 80% for the rest of the services and facilities. recreational activities, green spaces, The picturesque landscape of the village.
Telal north coast Village overlooks the North Coast with all its units on the best beaches of the northern coast, with a length of approximately 1,500 kilometers, It is characterized by its crystal clear waters and soft golden sands. To spend the best times and enjoy the beautiful sea water.
The space and prices of the Telal North Coast units
Vision Group Real Estate Development Company presented its units in the North Coast Telal project With various sizes and prices to suit all the different requirements of its customers, Divided among chalets, villas, and twin houses. The prices and spaces for each of them are as follows:
The chalet space starts in

the northern coast hills

of an area of 100 square metres. It is available at a starting price of 2,500,000 EGP.

As for the twin house units in

Telal North Coast

Its areas start from 165 square meters. And the price starts from 5,500,000 EGP.

While the villas space starts in the village of

Telal North Coast

From an area of 280 square metres, It is available at a price starting from 10,500,000 EGP.
Reservation and payment systems in Telal North Coast
Roya Group Real Estate Development Company provided an easy and convenient payment system for the company's clients who are interested in booking their residential unit in the village of Telal North Coast , and the payment system provided by the company is as follows:
5% down payment of the total unit value. Then pay another 5% after 3 months. Then pay the rest over a period of up to 7 years in equal installments.

Pay 8% deposit for maintenance.

Pay a serious down payment for chalet reservations at a value of 50,000 pounds. And for villas with a value of 100,000 Egyptian pounds.

Design of Telal North Coast Village

Telal North Coast Village is designed with the finest modern designs, Through its adoption of the graduated design of its various units to ensure that all units see the sea directly and from all angles, Through this project, the developer made sure that the North Coast Hills would be an amazing artistic painting executed to the fullest for all lovers of fine art and good taste.

Vision Real Estate Development Company used a group of experienced and skilled engineering and architectural consultants in the design of the North Coast Hills Village, to produce the project with the highest levels of quality and perfection.

Facilities and services in Telal North Coast

It contains the northern coast hills It has many facilities, services and recreational activities that suit all ages and all family members. Among the most important of these services are the following:

Swimming pools of different sizes and depths to suit all age groups.

Wide green spaces and a wonderful Crystal Lagoon.

Various aqua park water games for kids and adults water games lovers.

24-hour guard and security services equipped at the highest level to protect and secure all entrances to the village.

High quality surveillance cameras to ensure the highest levels of security and safety.

A group of international restaurants and cafes that serve delicious dishes and delicious drinks.

A commercial center that includes a number of international stores and brands.

A pharmacy with all medical and therapeutic products that operates 24 hours a day.

A social club suitable for all family members.

A health club that includes a gym, jacuzzi, and spa to serve all residents of the village.

A large hypermarket that operates throughout the day to serve the residents of the village.

Children's entertainment area (Kids Area).

A private mosque to perform prayers and perform religious rites

Information about the owner company

Roya Development Company is one of the leading companies in the Egyptian real estate development market and in the Middle East since its inception in 1997 by Eng. Hisham Shoukry, Which was based on the implementation of many successful real estate projects throughout Egypt, including high-end residential units and luxury tourist villages.

Roya Group has established many companies under its umbrella, Among the most prominent of them is a good company, and Ruya company, and Oclaban, In addition to merging it with Pioneer.

Vision Group Real Estate Company is always working to meet the needs of all its clients by providing them with suitable housing units that are luxurious and sophisticated in a modern and modern way. And it moves away with all its energy from everything that is stereotypical and traditional, This is what made the company reach the position it is in today to compete with the major real estate companies in Egypt.

Take the initiative now to book your residential unit in the most beautiful projects of Roya Real Estate Development Company on the northern coast, Telal north coast and enjoy a residential unit characterized by luxury and sophistication on the most beautiful beaches of the Mediterranean.

Contact us now at 00201011564040, One of our sales officials will reply to you to provide you with all the details of a project Telal north coast .