Telal Ain El-Sokhna
Telal Ain El-Sokhna is the latest Rooya developments project. For real estate development in Ain Sokhna, It is a very special project launched by the company with designs inspired by the surrounding natural elements. The earthy colors and shades of sky blue in the village complement the elegance of the overall design of Telal El Sokhna.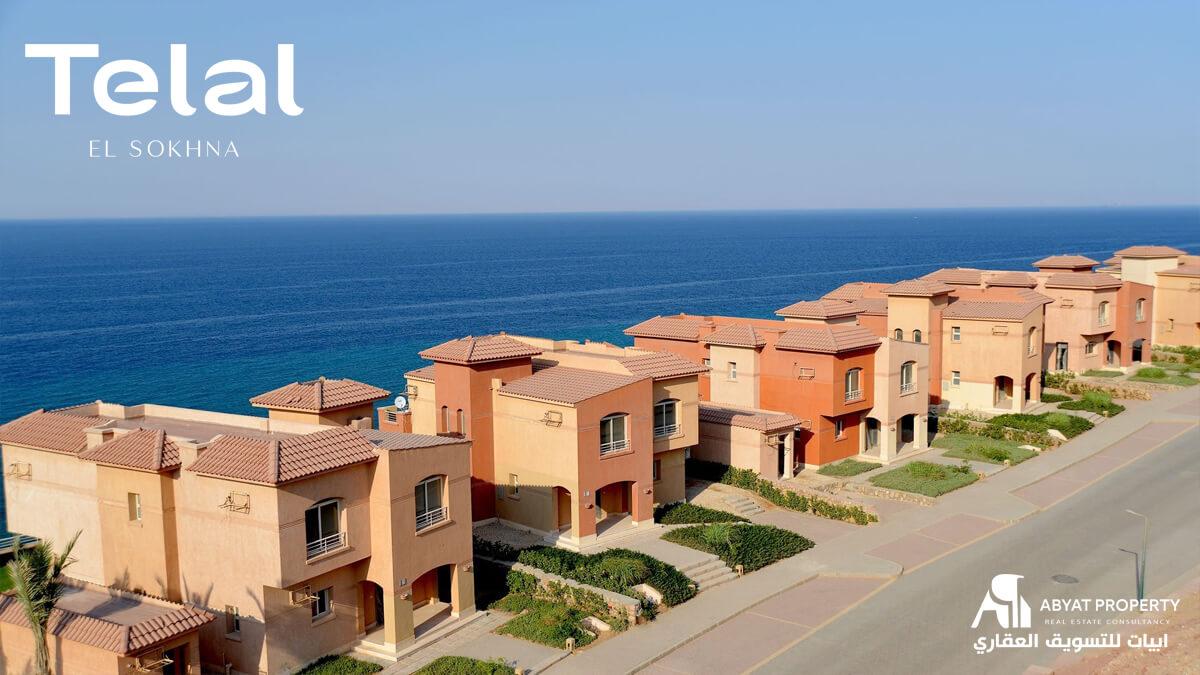 Telal Ain El-Sokhna project site
The charming Ain El- Sokhna Mountains embrace the Telal Ain El-Sokhna Hills, which are located only 90 minutes from the center of Cairo and occupy a 6-kilometer beachfront on the shore of the Red Sea. The project is characterized by many other geographical advantages, including:
The resort is located just 35 kilometers from the Sokhna Highway.

Telal Ain El-Sokhna is only 10 minutes away from the city of Galala.
Telal Ain Sokhna village

is also located

Only 45 minutes from the New Capital, And 60 minutes from New Cairo.

Telal Ain El-Sokhna

is

about 5 km from Porto Sokhna.

Telal Ain El-Sokhna Resort

is located

an hour and a half from Heliopolis.

Finally,

Telal El Sokhna Village

is only 30 minutes away from the gates of Ain El Sokhna.
The area of Telal Ain Sokhna project
Telal Ain El-Sokhna project is located in an area of 2.5 million square meters, and its units enjoy privacy, stunning sea views, and quiet living amid water bodies, swimming pools, and beautiful landscapes.
Telal Ain El-Sokhna project, which is located on an area of 600 acres, contains 3 main gates. One of them is operational and the other two are under construction. This large project consists of 4,000 units, most of which are standalone villas and twin houses.
Spaces and prices of Telal Ain Sokhna village
It is available in Telal Ain El-Sokhna Many residential units of different sizes, So that each of the company's clients finds his own requirement in this giant project, Where the project contains the following units:
6 hotels with a capacity of 4000 hotel rooms.

Chalets with an area of 96 square meters consisting of two bedrooms and a garden of 50 meters. An average of 2 million pounds for the unit price.

Chalets of 125 square meters consisting of 3 bedrooms and a garden of 120 square meters. An average of 3,240,000 pounds for the unit price.

Twin House with an area of 140 square meters, with an average price of 4,200,000 pounds per unit.

Twin House with an area of 180 square meters, with an average price of 5,100,000 pounds per unit.

Finally, standalone villas, with an average price of 12.8 million pounds.
Telal Ain Sokhna prices
Price starting from 2,000,000.

Areas starting from 96 square meters.

The project Location: Ain Sukhna.

Installments up to 9 years.
Rooya developments assures its clients that all units in Telal El Sokhna project will be delivered with a super lux finishing level.
Payment systems in Telal Ain Sokhna
Rooya developments provides Al-Aqaria has flexible payment systems for its customers to choose what suits them, These systems include:
5% down payment of the unit value, And the rest in equal installments up to 8 years.

10% down payment of the unit value. And the rest of the value is paid over 9 years in equal installments.

Pay maintenance expenses of 8% of the unit value.

The units are finally delivered after 4 years.
Are you still thinking? Think no more and book your private unit in one of the largest projects of Rooya developments Telal Ain El-Sokhna , and own your own summer unit in the bosom of nature.
Services and advantages in the village of Telal Ain Sokhna
Telal Ain El-Sokhna Village is presented to its customers a range of services and benefits, To be the right and ideal place for its customers to relax, recuperate, and get rid of the stresses of life.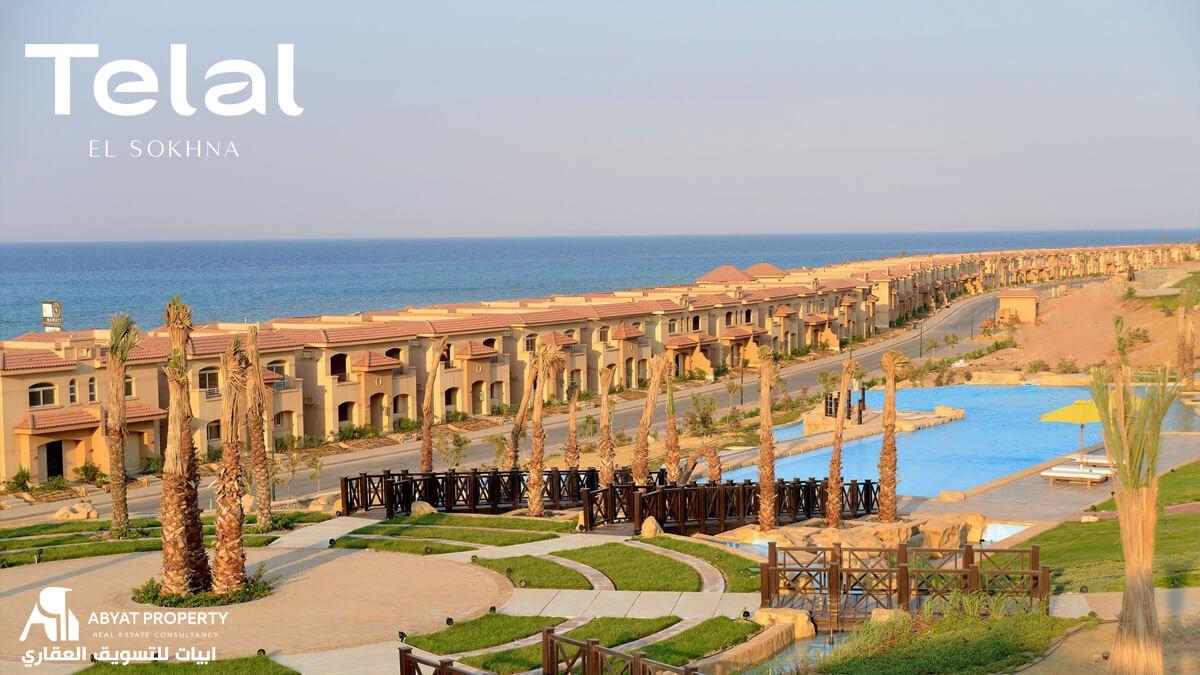 Examples of these advantages include:
Telal is home to the longest beach frontage in Ain Sokhna.

The village includes a club house.

Leisure swimming pools are available 24 hours a day.

beach activities.

Medical Clinics.

24-hour security and guard services.

supermarket, And pharmacies.

A mosque to perform prayers.

Health club.

Tennis courts.

Various sports fields.

Equipped sandy beach.

4 hotels.
Design of Telal Ain Sokhna Village
Vision Group Real Estate Company helped design Telal Ain El-Sokhna With one of the largest German consultants Oekoplan, The village was designed with a gradual level starting from a height of 7 meters above sea level and gradually rising to a level of 84 meters above sea level.
The resort has also been divided into a series of terraces, all of which have a full panoramic view of the sea. Each is surrounded by perfectly landscaped open green spaces.
The developer made sure that the design of the village has more privacy, and stunning views of the sea, and live quietly amidst bodies of water, swimming pools, And beautiful landscapes unlike anywhere else.
The architectural concept of Telal El Sokhna blends the beauty of the Mediterranean with modern design schools in architecture. Where Oikoplan Engineering Consultants presented its own style during the project, which is the application of advanced design approaches within the urban context of the place, Which is reflected here in the natural surroundings of the El Sokhna hills.
The consulting company created the designs of Telal Ain Sokhna using the latest technologies, Where the homes are designed with the comfort of the customers in mind, As for the general designs of the village, they are inspired by the surrounding natural elements. Earthy colors and shades of sky blue compliment the overall design of Tilal Village.
The company developing Telal Ain Sukhna
Roya Developments is one of the largest real estate development companies in Egypt. As it was able to achieve a high position for itself among the real estate companies in Egypt in a record time since its establishment.
Founded Vision Group Real estate many projects in various urban fields, of commercial projects, luxury residential, distinct coastal, And through it, it achieved very high sales rates, which made it attract a huge segment of customers.
Roya Real Estate Development Group was initially established in 2007 as a branch of the Tiba Development Company. Which was founded by Eng. Hisham Shoukry in 1997, who has a long history of accumulated experiences. It is one of the fastest growing holding companies in the country in the fields of tourism. real estate development, investment, also contracting, As well as consulting.
The company's investments amounted to more than 3 billion dollars, with a capital of more than 2 billion Egyptian pounds. This is in addition to owning a land proceeds of large projects of more than 9 million square meters.
Among the most prominent companies included in the vision group are the following:
TIBA Company

Okoplan

Vision for real estate development.
Contact us now at 00201069210222, One of our sales managers will contact you as soon as possible to provide you with all information about Telal Ain El-Sokhna .