Seazen North Coast is a tourism project offered by Al-Qamzi Company, which is one of the largest Emirati companies, with an investment volume of 11 billion EGP.
The company offers a tourist city on an area of 204 acres in the Sidi Abdel Rahman area, specifically at kilo 171 Alexandria-Matrouh, the company offers a group of various chalets and villas in the village with a lot of distinctive entertainment services, and below is all the information about Seazen sahel.
Seazen North Coast Location
Seazen North Coast Egypt is strategically located near the largest tourist villages on North Coast. It is also located on the most beautiful sandy beaches of the North Coast, which are the beaches of Sidi Abdel Rahman region, which is known as the Bride of the North Coast. 
Seazen Sahel village is located at kilo 171 on Alexandria-Matrouh Road and is distinguished by its proximity to several other roads.
And The following are the most prominent Seizen North Coast Location features: 
The village is located close to La Vista Waterway and La Sirena North Coast Village.

It is also distinguished by its proximity to the new city of Alamein.

Seazen is located on the North Coast near the new Fouka Road, the Dabaa axis, and Wadi El-Natrun.

It is also located close to El Alamein Airport and Ras El Hikma Bay.
Seazen North Coast Space
Seazen North Coast is located on a large area of 204 acres. The village occupies a large number of different unit types that vary between chalets and villas, such as townhouses, twin houses, and stand-alone ones, with varying spaces.
The total number of units in the village is 299 units.

The village has a beachfront of 660 m.

70% of the village space is allocated for all landscapes, services, facilities, recreational activities, and green spaces, and the rest is allocated for Construction space.
Seazen North Coast Design
Al-Qamzi Developments cooperated with some of the major engineering companies in the design and construction of Seazen North Coast village, in order to build this edifice on the highest global basis. Among these companies that Al-Qamzi Developments used its experience is the Engineering company owned by Engineer Raef Fahmy.
It also cooperated with other companies to provide many services. For example, its cooperation with Okoplan engineering consultancy to design landscapes throughout Seazen Sahel village.
Services and Features in Seazen North Coast
Among the advantages of Seazen North Coast is the vast area on which the village is now being built, as the company had the opportunity to implement all the means of luxury in the village in a distinct way.
The village includes everything from service and recreational activities completely and elegantly, Among the available services, are:
The village contains 3 clubhouses to entertain its residents.

Seazen Sahel

 enjoys a beautiful Landscape that contains a vast of green spaces.

It also includes a very attractive Crystal Lagoon.

The project includes a large garage to organize cars and prevent them from congesting inside the village.

The village has a group of best Restaurants and cafes that serves the most delicious dishes and beverages.

There is also a big Commercial area for all residents to make shopping in.

A jogging track and a tourist walkway.

There is also a golf car to move easily in the village.

A Hypermarket to buy all everyday necessities.  

A pharmacy that provides all medicines for all the village residents.

A big club that contains Gym, basketball, football, and tennis courts.

There are also many Beauty centers in the village.

security cameras to monitor all the angles on

Seazen North coast

.

swimming pool with different spaces and depths that suits all groups of ages.

Kids Aria develop childrens skills through many recreational games and activities.

Beaches for children and women.

Guard and security system that works around the clock.
Enjoy a direct view of the sea and a charming and attractive view in a city with the fullest services, amenities, and luxury. Seazen North Coast is the most beautiful summer vacation with your family, where privacy, tranquility, and the stunning beauty of nature are all that and more in Seazen north coast.
Unit Spaces in Seazen North Coast
The company offers an appropriate number of tourist units, as the total units in the village are 299 units, which includes 10 stand-alone villas, in addition to 219 townhouses and twin house units.
There is also a group of chalets with different spaces, including two, three, or four bedrooms.
Seazen North Coast Village Prices
The developer company offers the units in this new project at a very competitive price which made it one of the best projects in the North Coast. 
As for the prices offered in Seazen North Coast, despite the current price increase and the high cost of construction as a result of the increase in the prices of building materials such as iron and cement, the company was keen to provide reasonable prices for everyone and facilities up to 8 years without interest for customers in Seazen north coast.
And the following are the starts of these prices in all unit types:
A two-room chalet price starts from 3,400,000 EGP.

The price of a 3-bedroom chalet starts from 3,800,000 EGP.

Twin house unit prices in the village start from 5,500,000 EGP.

The prices of standalone villas start from 10,500,000 EGP.

Units will be received within 3.5 years from the contracting date.
Seazen North Coast Payment Plan
Al Qamzi Real Estate Development Company has provided a package of installment and payment systems for up to 8 years without any interest, as it was keen to reach the largest number of customers through these facilities, among these available systems are the following:
Paying a 10% down payment from the total unit price, and the rest in installments over 8 years.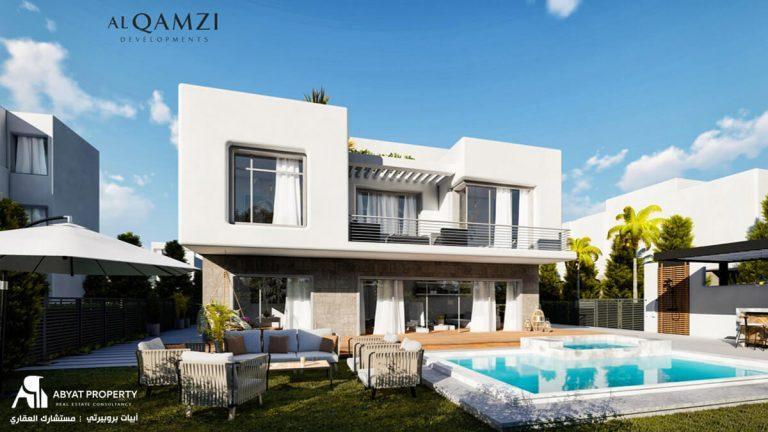 Investing Advantages in Seazen
Seazen North Coast offers residents and visitors a variety of nearby attractions and amenities. 
The resort is located near Marakia Village and has a variety of shops, restaurants, and cafes for visitors to explore.

The marina and the tourist village of Sidi Claire are also located nearby the village, which allow guests to enjoy a variety of tourist activities including water sports and beach entertainment. 

The area also includes several hotels and resorts that offer quality guest services and amenities.

In addition to that the resort itself also has several swimming pools, landscaped gardens, and sports facilities, providing even more opportunities for recreation and relaxation. 
With a variety of nearby attractions and facilities, it's no wonder Seazen North Coast is quickly becoming a desirable investment opportunity. 
About The Developer Company
Al Qamzi Developments Company is considered one of the largest real estate companies in the UAE, as it was established in 1997. It has made many achievements in various fields such as contracting, energy, oil and gas fields, and sewage stations.
And as the developer trusts the ability of the Egyptian economy to grow and develop, it established Al Qamzi Company in Egypt in 2010. The company indicated that the real estate market in Egypt is now witnessing a great expansion through new cities, urban renaissance, and development, which made it easy for it to decide to contribute to that success by implementing a series of distinctive and unique projects.
Eng. Yasser Zaidan, Chairman of the Executive Board of Directors, explained that Al Qamzi Development Group targets several distinct sites for the company's projects in Egypt. He also added that the company has already invested in the residential and tourism sectors, and among the most important projects bearing its name in New Cairo is the East Shire project in the Fifth Settlement in New Cairo City.
Now, the company has announced the opening of the reservation door in this tourist edifice that it offers at kilometer 171 on the Sidi Abdel Rahman region, which is Seazen North Coast Egypt.
Reserve your own unit now in Seazen North Coast Village, by contacting us at 00201011564040, and one of our sales representatives will get back to you as soon as possible to give you all the information about Seazen North Coast Project.