Salt North Coast is a new leap for Tatweer Misr Real Estate Development Company in the coastal urban development market, the company announced the launch of Salt North Coast latest projects in the North Coast, which is eagerly awaited by many of those interested in investing in its latest coastal projects who were unable to reserve their units in its previous projects.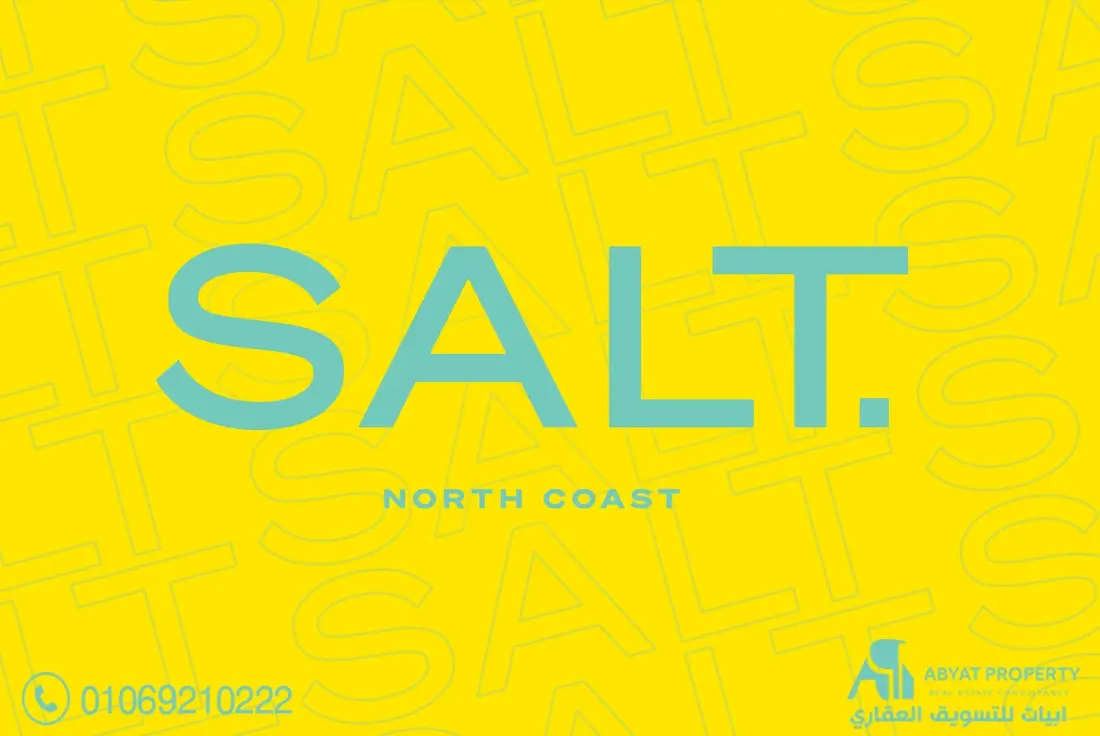 And below we'll show you the most important details that we received about this new giant project (salt tatweer misr) that Tatweer Misr Real Estate is offering as its third coastal project on the Egyptian North Coast, which has not officially launched yet.
Salt North Coast Project Location
Tatweer Misr Development's Salt North Coast is located in a very special location on the North Coast, specifically at kilometer 185 of Alexandria-Matrouh Road.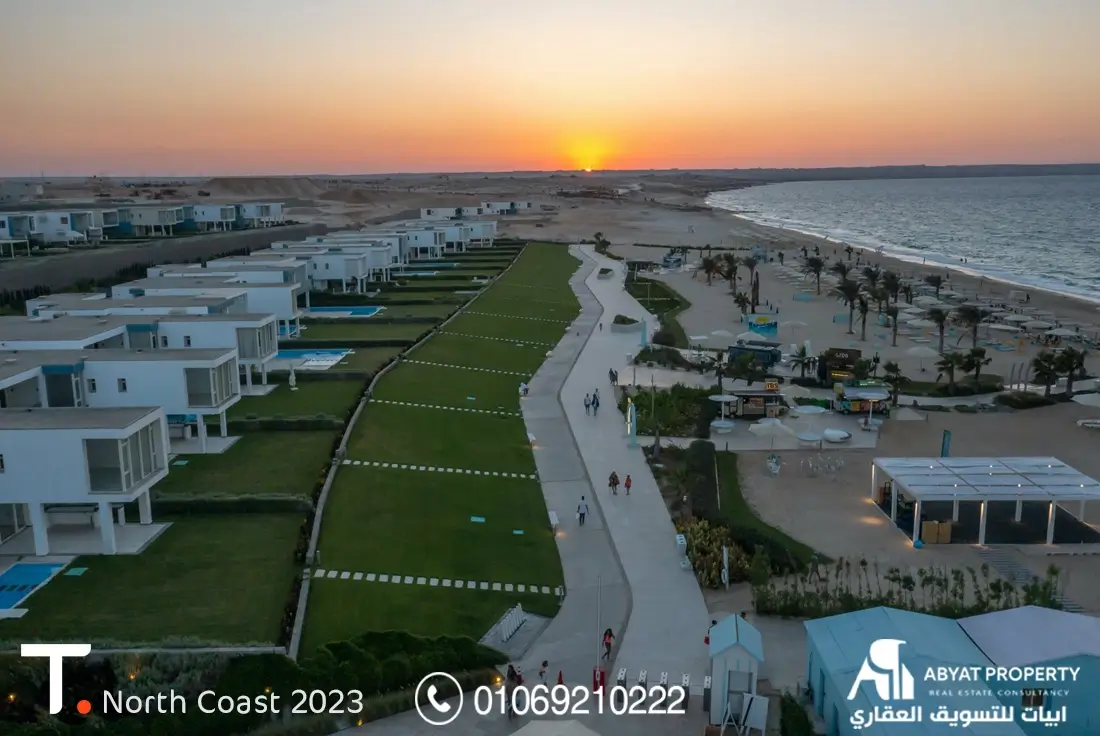 Salt North Coast enjoys a very special and strategic location near the most famous tourist resorts on the North Coast, as well as close to the most important roads, which gives this large project the great advantage of being easily accessible from anywhere, and among these most prominent geographical advantages it enjoys are the following:
Salt North Coast of Tatweer Misr in North Coast is located near the most famous tourist resorts, such as the famous Kattameya Coast Resort.

The project (salt tatweer misr) is also located near the popular village of Marassi North Coast.
Salt North Coast Project Space
Salt North Coast is located on the North Coast on a very large area of ​​300 acres, including a wide range of residential units, most of which enjoy direct views of the clear Mediterranean beach and its beautiful crystal sands.
The developer was keen to support the area of ​​this new project with the largest amount of services and entertainment activities so that the village includes more than 80% of its space for all services and entertainment activities provided,
while the rest of the area of ​​the village, which is approximately 20%, includes all the facilities and residential units in the project (salt tatweer), which All of them enjoy a direct view of the Mediterranean Sea with its beautiful crystal waters and soft white sands.
Salt North Coast Project Design
Tatweer Misr Development Company was keen to design its new project on Salt North Coast in a very distinctive way that supports the view of most of the project units directly to the sea.
Tatweer Misr designed the village by adopting the style of terraces with varying heights, which gives the common advantage to most units of the village with a view of the sea, without limiting this feature only to the units of the first row, as they alone enjoy that beautiful view.
Services & Features of Salt North Coast 
Salt North Coast has many services and features that make it one of the best tourism projects on the Mediterranean coast, as it offers a distinguished set of services and recreational activities that make the villagers enjoy every moment in (salt tatweer misr)and spend the best times in their summer vacations.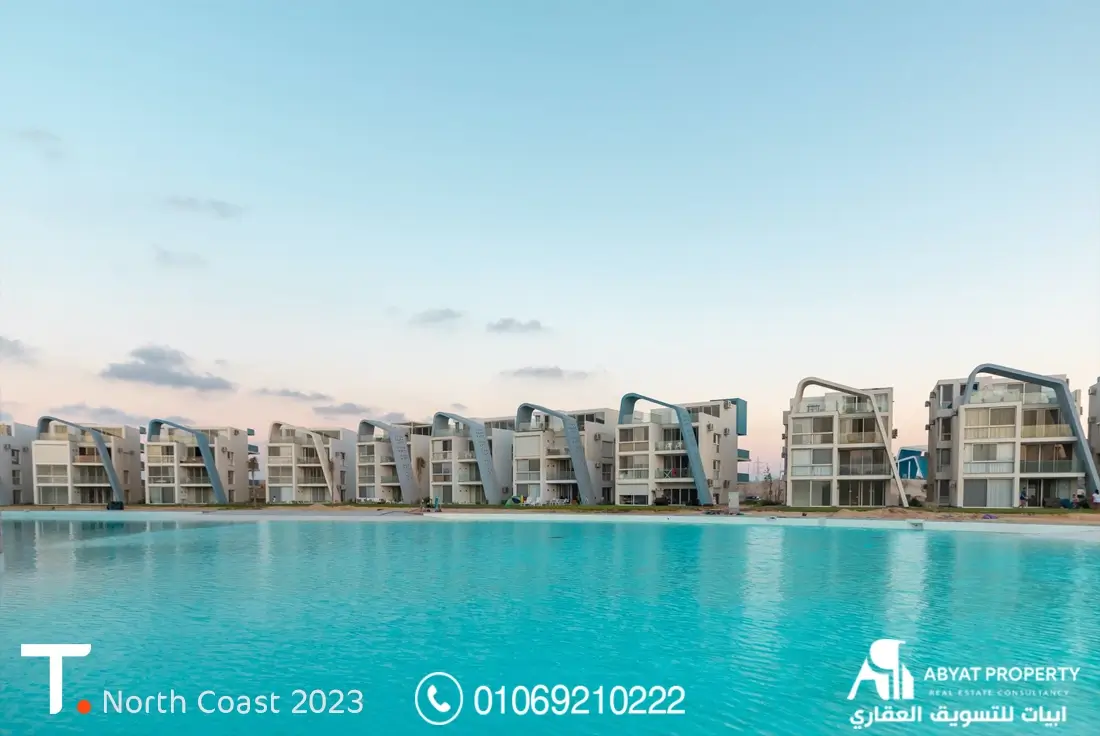 The following are the most important Features and services provided by the company during this new project:
A wonderful and distinctive landscape that contains a wide area of ​​green spaces and water forms that characterize the general design of the village, and support it with added aesthetic value.

The village includes a wonderful and distinctive marina.

The village extends along the northern coast with a private beach that extends up to 830 meters.

The resort includes swimming pools with varying depths and sizes, which are suitable for different age groups, so that all residents of the village, young and old, can enjoy them.

Dedicated parking areas to organize cars inside the village to prevent accumulation and reduce traffic congestion.

Security service at the highest level is based on a group of security personnel trained well at the highest level.

High-quality surveillance cameras monitor all parts of the compound and support it with the largest percentage of internal security.

The village also has a group of vehicles that facilitate the process of moving inside the village.

The resort includes a group of sports fields, which include the largest number of sports, such as football, tennis, table tennis, and other sports.

The resort also includes an entertainment clubhouse for all its residents.

The village contains a group of distinctive local and international restaurants and cafes, through which the most delicious dishes and various drinks are served.

The village provides all the necessary medical services to serve the residents of the village and deal with all emergency cases, from separate clinics and pharmacies to purchase all medical supplies.

The resort includes a distinguished group of malls and commercial centers, which include the most famous local and international brands.

The village also offers its residents a health and relaxation club that includes a gym, spa, and jacuzzi.

Tatweer Misr New Project in the North Coast for the year 2023 also includes an entertainment social club that is suitable for all family members, to spend an entertaining and distinguished time inside it as much as possible.

A children's entertainment area (Kids Area) that includes all the entertaining games for entertainment and developing their skills.

The village facilities have a group of elevators and escalators, which facilitate movement between the floors of the various buildings within the village.
Salt North Coast Project units' prices
As Tatweer Misr Development Company used to launch Salt North Coast various projects by providing it with the best competitive prices, which represent a great added value for its customers that makes them rush to reserve their unit during it, the company also presented its new project in the North Coast City with very special prices that compete with the largest neighboring coastal projects in North Coast.
Tatweer Misr targeted, through the prices Salt North Coast units that it offers during this new project, the largest category of customers seeking to purchase their coastal unit in one of Tatweer Misr's distinguished projects on the North Coast.
The company presented the prices of its units for its new coastal project on Salt North Coast at a very special price, starting from the following:
Prices for a 2 bedroom chalet in the Salt North Coast project range from 3,750,000 EGP to 6,300,000 EGP.
Prices for a 3-bedroom chalet on the Salt North Coast range from 4,275,000 EGP to 6,900,000 EGP.
The price of a townhouse in Salt North Coast Village is varying between 7,750,000 EGP to 8,750,000 EGP.
For Twinhouse units, it ranges from 8,500,000 EGP to 10,900,000 EGP.
Finally, the prices of stand-alone villas in Salt North Coast range from 11,000,000 EGP up to 38,000,000 EGP.
The coastal units' prices in Salt North Coast start from 4,000,000 EGP.
Clients need to pay 100,000 EGP for EOIS reservations to those who want to reserve chalets in the village.
While an amount of 150,000 Egyptian pounds is paid to confirm the seriousness of reserving villas in Salt North Coast

.

Tatweer Misr Real Estate Company will start receiving reservations on its new project,

Salt North Coast

, starting on Sunday, April 9, 2023.
Unit Spaces in Salt North Coast
tatweer misr salt Real Estate Company was keen, during this new project, to provide a variety of housing units that suit the different desires of customers, as well as different spaces that suit different tastes. And below we'll show you the unit spaces in Salt North Coast project.
The spaces in Salt North Coast chalets vary from 95 square meters up to 105 square meters. 
Chalets with three rooms range from 110 square meters to 115 square meters.
Townhouse spaces in the project are 150 square meters. 
The spaces in twin houses units are 185 square meters. 
Finally, standalone villas' spaces start from 180 square meters for 3-room villas and up to 350 square meters for 6-room villas.
Payment systems in Salt North Coast
Tatweer Misr Real Estate Company was keen to provide payment facilities to its customers to urge them to take the initiative to own their unit in this new and distinguished Salt North Coast through two easy and flexible payment systems. The systems provided by the company are as follows:
The first system: paying a 10% down payment of the total unit price, and then the rest in installments over 7 years in equal installments.
The second system: 10% down payment of the total unit price, then 5% after three months, and the rest in equal installments over 8 years.
salt north coast master Plan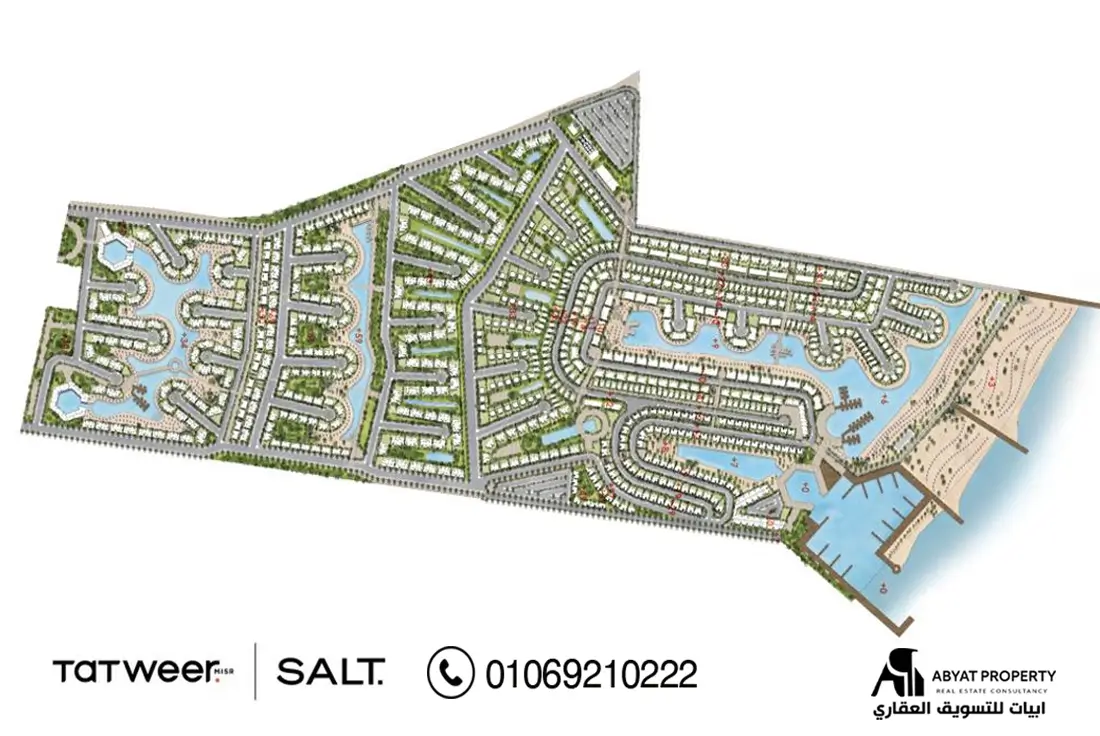 Information about the owner's company
Tatweer Misr Development Company is one of the pioneers of the real estate industry in Egypt, whose name enjoys a good reputation in the Egyptian real estate development market, since its establishment in 2014 when its name began to gradually stand out through a group of distinguished projects that the company implemented until it reached the position Which it is now among the pioneers of the real estate industry.
Tatweer Misr has a great wealth of industrial and technical expertise, as it offers a new and innovative perspective of an integrated life that distinguishes it from other real estate companies, through its tendency to meet the growing demand for mixed-use projects, which in turn enriches the lives of its communities.
salt tatweer
Tatweer Misr is distinguished for the innovative designs it offers in Salt North Coast various projects, as well as for its unique architecture, its endeavor to provide the best landscapes and to support each project with all modern amenities that aim to serve the beneficiaries as much as possible.
One of the most important features of Tatweer Misr Development Company is its formation of many strategic and successful partnerships with the largest internationally recognized specialists, to contribute to the production of its projects in the best way, and to provide it with all the infrastructure and luxury elements in it.
Chairman of Board of Directors
The Board of Directors of Tatweer Misr Development is chaired by the Managing Director, Mr. Ahmed Shalaby, the Professor of Architectural Engineering at Cairo University, and a great real estate expert who enjoys great fame and respect in the real estate developer market in Egypt.
Ahmed Shalaby undertook the implementation and supervision of many successful projects, which elevated his professional name in the real estate industry market, in addition to his great and honorable academic history in university education.
Ahmed Shalaby, CEO of Tatweer Misr Real Estate Company, held many important positions, which made him enjoy the enormous experience that he has today, through which he made a big leap during his management of Tatweer Misr Real Estate Development Company, and among the most important of those positions that he occupied during his career are the following:
Ahmed Shalaby occupies the position of CEO of Tatweer Misr Real Estate Development Company.

Ahmed Shalaby is also a professor of urban development and architecture at the Faculty of Engineering, Cairo University.

Ahmed Shalaby also held the position of Visiting Professor at Cornell University in America.

He is also a member of the Board of Directors of the International Council for Small and Medium Enterprises.

Ahmed Shalaby is also a member of the Board of Directors of the Real Estate Investment Division of the Chamber of Commerce.

Finally, Ahmed Shalaby is the Vice President of the Real Estate Export Council.
Biography of Ahmed Shalaby: –
Mr. Ahmed Shalaby went through many professional stages in which he worked, which contributed to the formation of the tremendous professional experience that he occupies at present time, and among the most prominent of those stations that Engineer Ahmed Shalaby went through are the following:
Engineer Ahmed Shalaby worked as a technical advisor to the Chairman of the Board of Directors at Al Mustakbal Urban Development Company between 2013 and 2014.

Ahmed Shalaby occupied a position as a technical advisor to the Minister of Housing, Utilities, and Urban Communities in 2013.

While he held the position of Senior Vice President of the Real Estate Sector at Al Fawares Holding Company between 2006 and 2012.

Ahmed Shalaby also worked as Deputy General Manager at Dar Al Lotus Engineering and Project Management Company between 1997 and 2006.

He also worked as a general manager at Al-Dar Company in Egypt between 1993 and 1997.
Previous projects of Tatweer Misr
Tatweer Misr has a very distinguished business precedent, through which it was able to gain the confidence of the largest number of customers, through many projects that the company implemented in various parts of Egypt, in coastal cities, new cities, and many other places.
The following is a group of the most prominent projects implemented by Tatweer Misr:
IL Monte Galala Ain Sokhna Village.
Il monte Galala Ain Sokhna is one of the most important projects ever implemented by Tatweer Misr in the city of Ain Sokhna. It is a distinguished and large project that the company was keen to present in the best possible way, as it is located 25 kilometers from the gates of Sokhna, and 11 kilometers before Porto Ain Sokhna. As well is only 60 minutes from Cairo City.
This famous resort is located on an area of ​​530 acres, or approximately 2.2 million square meters, to include all the distinctive services and recreational activities, and residential units with a sophisticated and distinctive design, which makes it unique among the rest of the projects located in Ain Sokhna.
It is one of the projects implemented by Tatweer Misr Real Estate Development Company on the North Coast in 2021, which enjoys a distinguished geographical location, specifically at kilometer 165 of Alexandria-Marsa Matrouh Road, a short distance from La Vista Village and Telal Village, with an estimated distance of only 15 minutes, and is also located on 46 km from the famous village of Fouka Bay North Coast.
Di Bay North Coast is located in an area of ​​approximately 200 acres, and its beach is approximately 800 meters long to include all recreational water activities. The village is located at a depth of 1100 meters, and it is a project that was divided into 6 phases in the form of terraces of varying height to support all units in the village with a wonderful view directly of the Mediterranean Sea.
Bloomfields Compound Mostakbal City.
Marina Residence Il Monte Galala Ain Sokhna.
The northern coast of Egypt
The Northern Coast of Egypt is one of the most popular tourist regions in Egypt people come to it from everywhere inside and outside Egypt.
North Coast has a beautiful, picturesque beach and pure Mediterranean Sea water, and its beaches are also gentle and have soft white sand. This is back to that there are no mountains along the coast, which makes construction projects much easier than in other tourist regions to include the best tourist villages in Egypt.
Egypt's North Coast is always a surprise to all its visitors, as each region has its own unique atmosphere that you can never get bored of.
Recently, North Coast included some new popular areas that have become more popular with people around the world, such as Sidi Abdel Rahman, Ras El Hekma Bay, and Sidi Hanish.
The climate on the North Coast is usually moderate in summer and cold in winter, but sometimes it rains and snows a lot. That's one of the reasons the north coast has been a summer tourist destination for a long time. But now, because of Egypt's plans to have coastal cities that are liveable all year round, the trend is to build new cities that will accommodate more people.
Many people compete now to own their coastal unit on the North Coast after the country encouraged the people to buy homes in new cities like New Alamein and New Mansoura, which are on the coast and overlook the Mediterranean Sea.
The North Coast of Egypt is a place where people who want to get away from crowds can find beautiful, upscale tourist villages.
There are five-star resorts and villas here that also attract people from all over the world with the beautiful sea nature.
The weather here is much milder than it is in some of the other places on the Red Sea coast, and there are plenty of places to go swimming and boating. Nightlife is also very popular here, as people go to the new resort towns on weekends specifically to attend and enjoy different parties.
The North Coast includes a group of beautiful tourist villages on the shores of the North Coast. Several real estate development companies are fighting and competing to establish these villages as popular tourist destinations in this attractive region.
Reserve your unit in salt tatweer misr before it is officially launched, and before its units are fully booked by many interested parties in the latest launches presented by Tatweer Misr Real Estate Development Company.
Contact us now at 00201011564040, and one of our sales officials will reply to you as soon as possible to provide you with all the details and answer all your inquiries about Salt North Coast .
For More Info  about  City Of Odyssia Sabbour in Mostakbal City Call us 01069210222