Mall City Hall New Cairo project
Sirak Development and Real Estate Investment Company offers a golden opportunity for anyone looking for guaranteed investment and a quick return through its new project in New Cairo. Mall City Hall New Cairo Where the company presents, in the most vital location in the Fifth Settlement, an investment project near Wadi Degla Square, Waterway Compound, and Garden Mall 8 in New Cairo, and it is considered the largest integrated service architectural edifice in that region.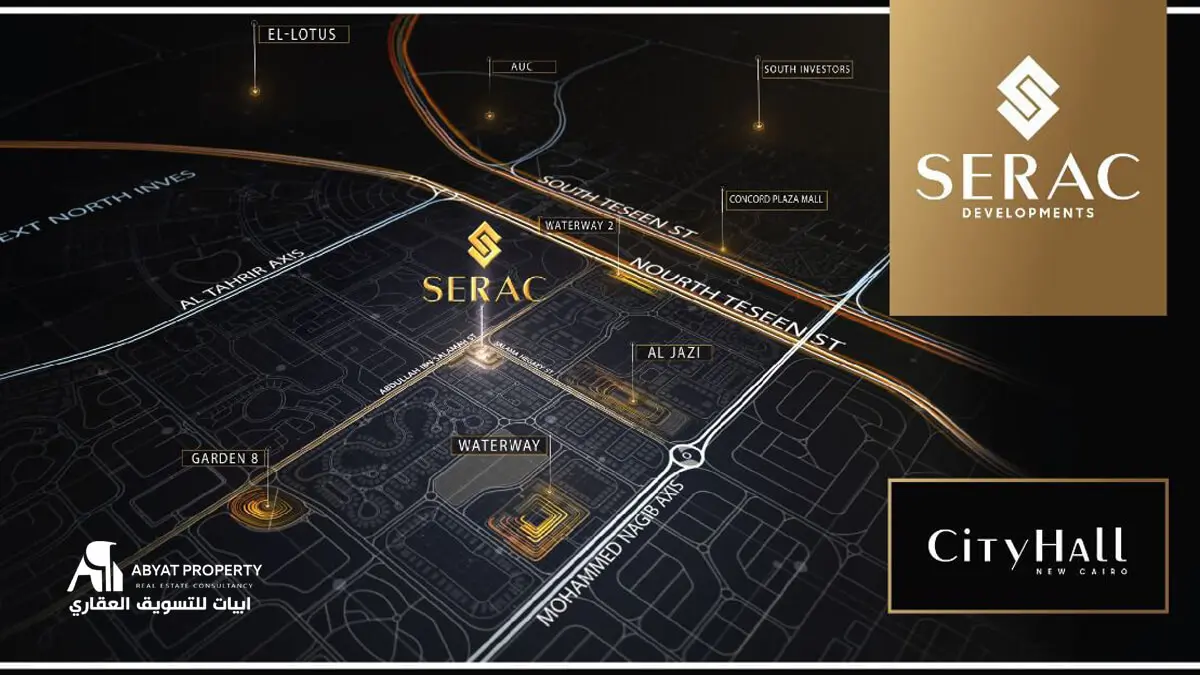 The project consists of 6 investment buildings and deals with more than one sector, where there are commercial and administrative units at the highest level with a variety of spaces that suit all customers. It is built on a huge area that made it a great attraction for everyone in New Cairo.
It includes a lot of diverse services aimed at the comfort of customers and meet all their requirements, All this in exchange for attractive competitive prices that have not been offered in the market before, to suit all customers and investors. Below is all the information and details about Sirak Fifth Settlement project .
SERAC Developments is launching an investment edifice in the heart of New Cairo. Where the company announces a commercial and administrative project, City Hall New Cairo Mall, in a strategic location near the Waterway Compound and Wadi Degla Square, In the Sirak project, the Fifth Settlement, it presented 6 investment buildings, offering them different areas and competitive prices, with huge facilities of up to 6 years and without interest. It also offers it with international designs that it developed in cooperation with a large group of well-known senior consultants.
The shops space in the mall starts from 50 square meters.

The administrative units space starts from 40 square meters.
The location of Mall City Hall New Cairo
A good location is one of the most important factors for the success of any project, and in order to start your new project with confidence, you only have to enter your new world in the Glamor Fifth Settlement project, Where the company was keen to choose an excellent location on the parallel street to Mohamed Naguib Street, right of Wadi Degla Square.
Places near Mall City Hall New Cairo
Near Waterway Compound.

Parallel to Mohamed Naguib Street, Fifth Settlement.

Very close to Garden 8 Mall.

It is minutes away from the Central and Regional Ring Road and Madinaty.

It is also located near the capital, Mostakbal City and Madinaty.

Near Cairo Festival City and the American University.
The area of Mall City Hall New Cairo
The Sirak Fifth Settlement project carries modern, innovative and eye-catching designs that made it an architectural icon among all New Cairo projects. It occupies a large area of 16,000 square meters and has a frontage of 300 square metres. The construction share of this area was 40%, and the rest of the space was allocated to service facilities of all kinds. The mall consists of 6 separate buildings and rises by 5 floors, and each mall is occupied by shops and administrative offices.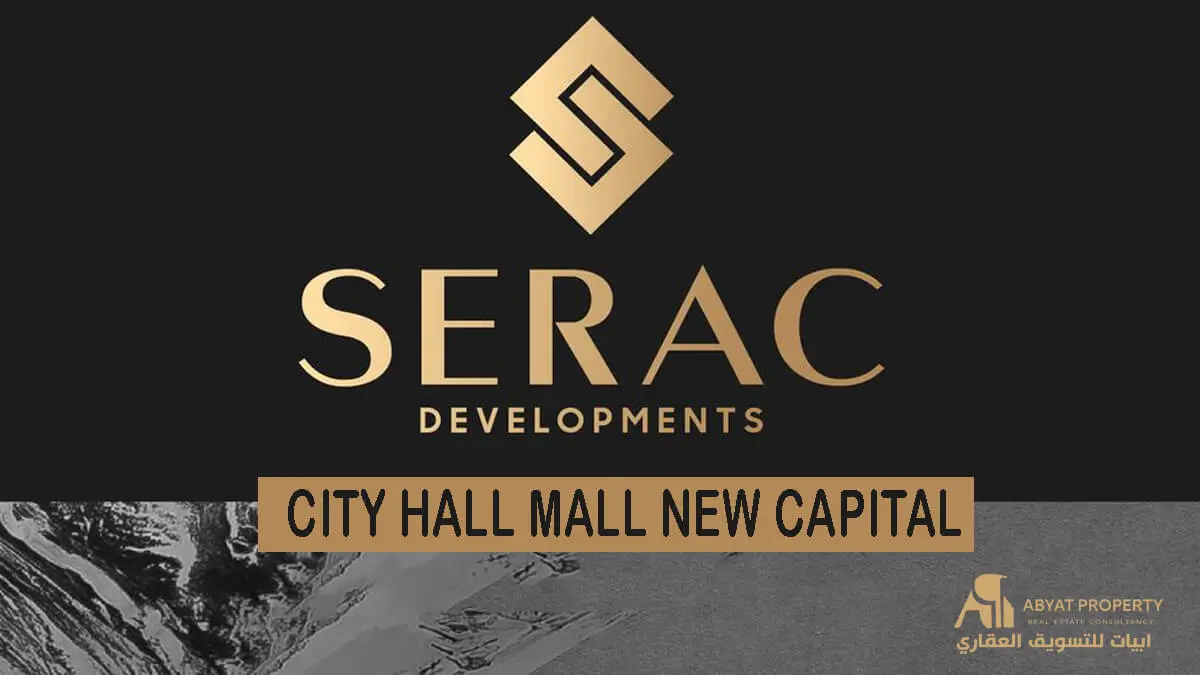 The mall consists of 2 garages + ground floor + 5 upper floors.

Ground and first floor for commercial.

Starting from the second floor of the administrative sector.

The ceiling height in the mall is 5.5 meters, and there are shops with a height of 11 meters.
Design of Mall City Hall New Cairo project
In the design and construction of the Sirak project, Fifth Settlement, cooperation was carried out with a large group of experts and consultants due to the large area that the City Hall New Cairo Mall enjoys, as the company was keen to present it in a distinctive way, making it the first destination for every investor or customer who wants to reserve his own place. In a global edifice with unique designs, Where she hired Value Engineering Consultancy, One of the largest and most important companies in the real estate market, Among the activities of this company:
Waterway New Cairo Compound.

Palm Valley Compound, New Cairo.

Agora project, New Cairo.
As for the person responsible for the interior and exterior design and landscape design in the mall, he is the engineer Hani Saad Al-Maarouf, who has designed many successful and distinguished projects.
Services and features in Mall City Hall New Cairo
Each building of the City Hall New Cairo Mall includes a wide range of services and luxuries to fully meet your needs and requirements. Where services occupy more than 70% of the project area, Among the most important of these services are:
A garage for cars on two floors, with an area of 32,000 pounds.

6 escalators.

10 elevators.

Hypermarket with an area of 1500 square meters, with a frontage of 30 meters.

Pharmacy and bank.

Guard and security.

security cameras.

Central air-conditioning.

Display screens.

Wifi.
Units spaces of Mall City Hall New Cairo
The large area on which the Sirac Mall, Fifth Settlement, is built, gave City Hall New Cairo Mall the opportunity to provide units with all the spaces that customers wish for, And it is compatible with all the activities that the project embraces, and the unit areas in the project are as follows…
The commercial units' spaces start from 50 square meters.

Finishing level in the commercial units (semi-finished).

Administrative office spaces in the mall start from 40 meters.

Administrative offices are received with full finishes and air conditioners.
Prices for Mall City Hall New Cairo
It is natural for an international and Emirati company such as Sirak Real Estate Company to offer reasonable prices compared to its position and the level of quality it provides. But here, the company was keen to reach the largest number of customers, so it provided a very competitive price with great facilities up to 6 years without interest. The offered prices vary according to the type of unit and its location within the mall.
The price of a commercial meter on the ground floor starts at 130,000 pounds

The price of a commercial meter in the first floor starts at 70,000 pounds

The price of an administrative meter in the second floor starts from 65,000 pounds
Reservation and payment methods in Mall City Hall New Cairo
With the lowest down payment and installments over 6 years, the company opens the door for reservations in its latest building, City Hall, Fifth Settlement, City Hall, New Cairo Mall. Where Sirak Real Estate Company indicated that the project enjoys a package of different installment systems that suit each customer and make him own his unit without feeling any burden, Among the systems available in New Cairo Sirak:
10% down payment and installments over 5 years.

20% down payment and installments over 6 years.
Information about SERAC Developments
It is one of the Emirati-Egyptian companies, which includes a company between a group of businessmen and large investors, This company has made a lot of achievements outside Egypt, and after achieving a name that has weight on the level of the international real estate market, it announces the beginning of its investment in Egypt in several different locations such as the Administrative Capital and the North Coast, Now, it is starting its investment in the Fifth Settlement area in New Cairo.
The owners of the company are:
Businessman/ Tariq Suleiman.
He is an investor with more than 50 years of experience in the field of gold and diamonds and the owner of the largest diamond brands such as (Glamour, Ricci, Marley, Damas) in addition to being the owner of Stella walk North Coast, And he created 130 hotel apartments in Stella abdulrahman.
Wormwood Tawheed Abdullah.
He holds the position of Chairman of the Board of Directors of Damas Properties, Chairman of the Dubai Gold and Jewelery Group, Brand also owns the jewel, It also has more than 250 branches all over the world and is considered the fastest growing Emirati brand