GAIA North Coast has launched its new phase in Ras El Hikma by Al-Ahly Sabbour Real Estate Company after achieving the highest sales rates in Gaia North Coast project, the company opens the door for reservations in the second phase, which is called Camilla Lagos North Coast.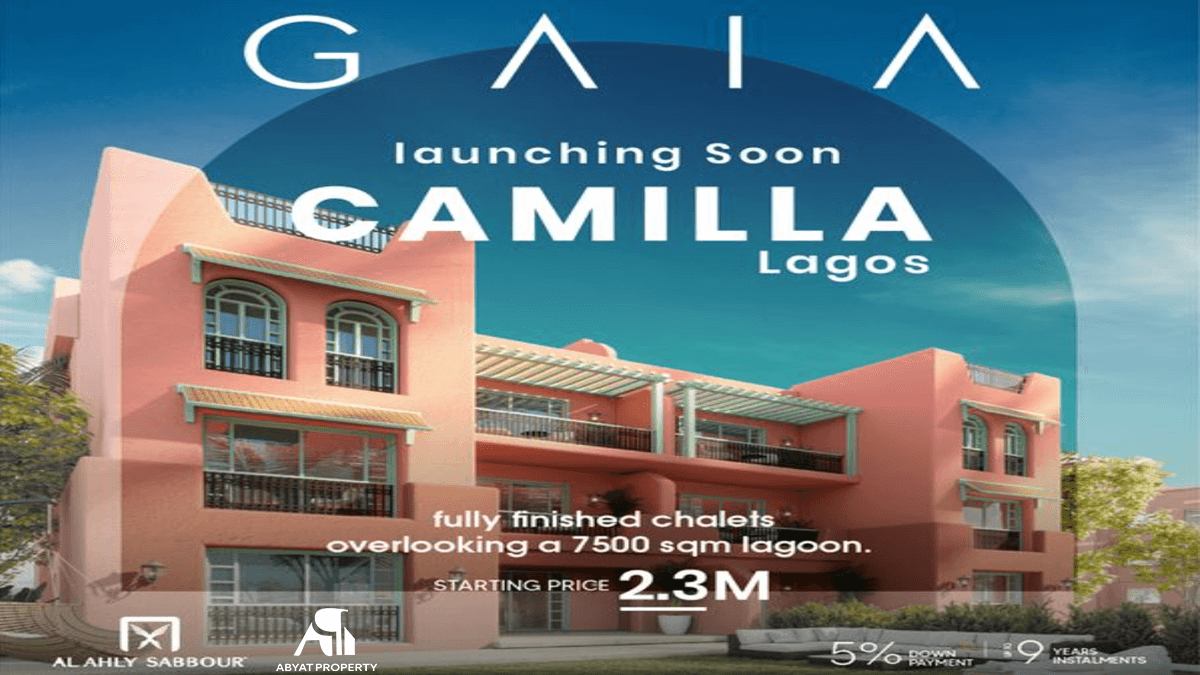 The company offers a group of chalets that directly overlook the sea with a large number of services and with a down payment starting only from 5%. 
The developer company sought help from major engineering consulting firms in Egypt in the design of Camilla Lagos in the heart of Gaia North Coast project.
It also offered units at the lowest prices with facilities of up to 9 years and without any interest.
GAIA North Coast project location
GAIA North Coast and Camilla Lagos North Coast are located on the northern coast, at kilometer 194 in the Ras al-Hikma Bay area, whose beach has been classified among the 3 most beautiful beaches in the world, due to its sandy beaches and its embrace of many picturesque landscapes. In addition to its distinguished and strategic location that linked to several important main roads on the North Coast.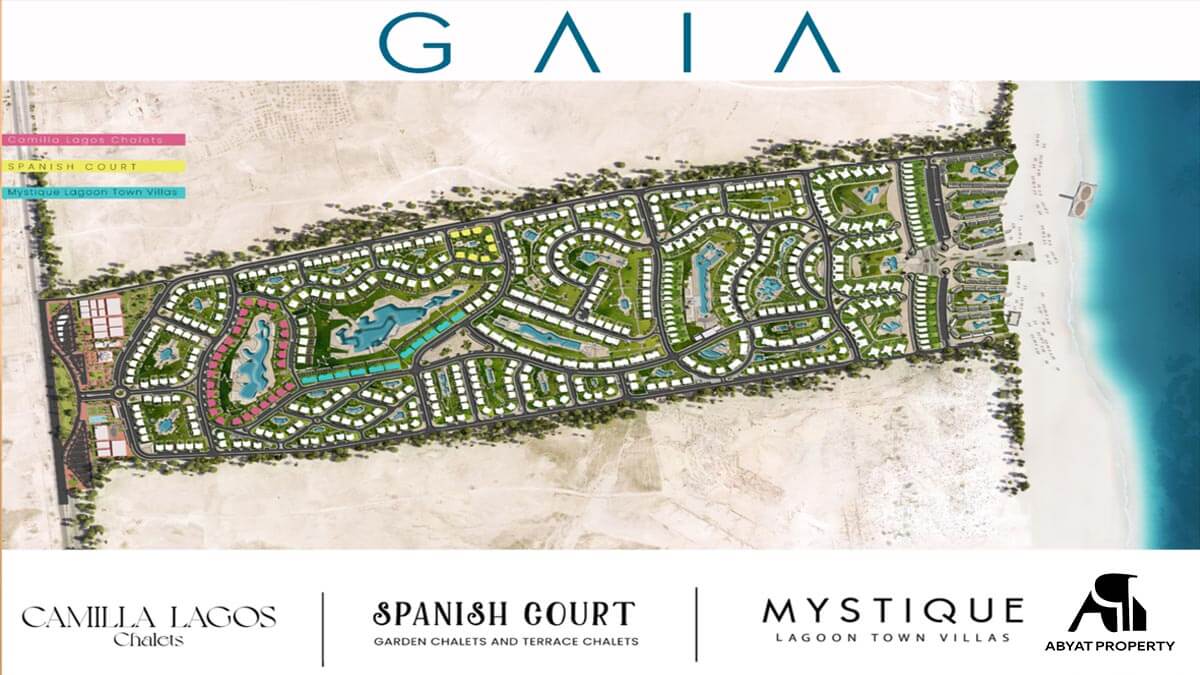 GAIA North Coast is located on the North Coast, and its location enjoys many strategic features such as:
It is located only half an hour away from Amwaj Village.

It is located near the New Alamein City, which is the first residential city on the North Coast. 

It is also only minutes away from the new Fouka Road, which connects Greater Cairo with the North Coast, and has 4 exits, one of them directly on Ras El Hikma.

GAIA North Coast

is also located near the largest tourist villages such as Mountain View, La Vista, and Marassi North Coast, It is also steps away from John Sodic Village.
GAIA Camilla Lagos Space 
Gaia Camilla Lagos was designed on terraces to allow each chalet inside to have a distinctive view of the sea. And the following is some information about this phase from GAIA North Coast.
The village has more than 45 square meters of water.

Green Spaces in the village are more than 65% of the village area.

All units' level of finishing is super lux.

The village has the longest view of the sea which is 290 m.

The village includes chalets only.
Gaia North Coast Services 
Al-Ahly Sabbour Real Estate Development Company offers this phase with a wide range of services that meet your needs, as these services occupy more than 70% of the total area of the village, Among the most prominent and important services that the village enjoys, are the following:
There are many restaurants and cafes that serve international dishes in the European style.

Artificial lakes and swimming pools on an area of 45,000 square meters.

A tourist walkway for walking, running, and cycling.

Beach activities and kids' area.

Green spaces and landscapes.

Aqua Park, tennis courts, football, and basketball.

Shops and hypermarkets.

Golf car ease the movement in the village.

Surveillance cameras, guards, and security personnel.
GAIA Camilla Lagos North Coast Payment Plan 
There are 2 types of payment systems that are available in GAIA Sabbour Camilla Lagos North Coast with a down payment starting from 5% and payment facilities for up to 9 years without interest.
5% down payment and the rest in installments over 8 years.

10% downpayment and the rest in installments over 9 years.
About Al-Ahly Sabbour Company
Al-Ahly Sabbour Company is one of the well-known companies in the real estate market. It has a long history in building and developing tourism and residential projects. 
Al Ahly Sabbour gained great fame during the past years until it became the first in Real Estate Market.
Al-Ahly Sabbour was established in 1994, nearly 28 years ago and this long period makes it has a long experience and distinguishes it from others. All the success that the company has achieved is due to its founder, Eng. Hussein Sabbour who owns 60% of the company shares in a successful partnership with the National Bank of Egypt which owns the rest shares.
The company's previous projects:
Katameya Hills New Cairo.
Sunterra Resort Sharm El-Sheikh

.
Layan New Cairo Compound.

Piacera village in Ain Sokhna.

Green Square New Cairo Compound.

L'Avenir New Cairo Compound.

Amwaj North Coast Village.

Gaia North Coast village.
These were some of Al-Ahly Sabbour's achievements that bear its name in the real estate market. 
Contact us now on 00201011564040 to reserve your own unit in the new phase of Gaia North Coast village and one of our sales representatives will respond to you as soon as possible to provide you with all the details, and answer all your inquiries about GAIA North Coast Village.