Q North Coast project is one of the latest distinctive coastal projects, due to its wonderful geographical location. You can own your chalet in one of the most prestigious villages of the North Coast, and enjoy a magical view of the most beautiful and enchanting landscapes.
Q Real Estate Development Company offers you a golden opportunity through which you can own a villa with a direct view of the sea at competitive prices and flexible payment systems.
Q North Coast Location
Q North Coast is located in a prime location, specifically in Sidi Abdel Rahman, which is a highly desirable area in the North Coast region.
Q North Coast is located on the North Coast at kilometer 136 on the Alexandria-Marsa Matrouh road. Below is a brief about Q North Village's geographical location:
The resort is located close to the most popular resorts such as Marassi Aqua Park, Stella Heights Resort, Aura Sidi Abdel Rahman, Amwaj, Bianchi Elios, and Masaya Sidi Abdel Rahman, making it an ideal choice for travelers looking for a luxurious and relaxing vacation experience.

Moreover, it is located near major roads including Dabaa Road, Wadi El Natrun, Al Fouka Road, and El Alamein Road 

In addition, North Edge Towers, El Alamein Airport, and New Alamein City are located nearby the village, making it easy for travelers to reach their desired destinations.
Q North Coast Space and design
Q North Coast is a well-designed project on 100 acres, offering a range of chalets and Twin houses with luxurious finishing and different sizes. The village is designed to create a quiet and picturesque living environment, with a large area allocated to green spaces, and artificial lakes.
This gives the residents a serene view that allows them to escape from the hustle and bustle of city life.
Privacy was also given top priority when designing the village, ensuring that residents can live comfortably and safely. In addition, the company decided to limit construction to just 20% of the total area, and the majority of the space dedicated to include a variety of facilities, services, and recreational activities.
Overall, Q North Coast is an excellent choice for those looking for a quiet luxury living experience.
Q North Coast features & services
Q north sidi abdel rahman provides a range of amenities and services to ensure that residents and guests can enjoy a comfortable and luxurious lifestyle.
These services and features include the following:
There is a swimmable crystal lagoon located within

Q North

Resort provides residents with a unique and refreshing swimming experience.

An international hotel that offers high-end accommodations for guests during the season.

The village includes a group of fitness and sports facilities to all its residents

It also includes swimming pools with different sizes that suit various age groups, in addition to the pool located inside the hotel.

Green spaces, artificial lakes, and landscapes offer beautiful natural views for all the units within the village.

A 24/7 security staff and latest surveillance cameras that ensure the safety and security of residents and guests.

A clubhouse that hosts various activities and events for residents.

A well-equipped gym and spa are located inside the hotel.

The village includes a mall featuring a variety of international and local brands to make shopping through

There are also a group of best restaurants and cafes that serve the best international and local dishes and beverages.

A safe kids' area with various activities and games for children to enjoy.

Running and cycling lanes away from cars' paths.

A high quality firefighting system to ensure the safety of residents and guests.

Regular housekeeping and maintenance services for all units within

Q North

Resort.

A supermarket and pharmacy to cater to residents' daily needs.
Finally, Q North Sidi Abdel Rahman is your ideal project that provides various amenities and services to ensure that residents and guests can enjoy a luxurious and comfortable lifestyle.
 

Q North Coast prices and spaces
Q North Sidi Abdel Rahman offers a diverse range of fully finished and furnished summer units with elegant designs to suit all customers' preferences.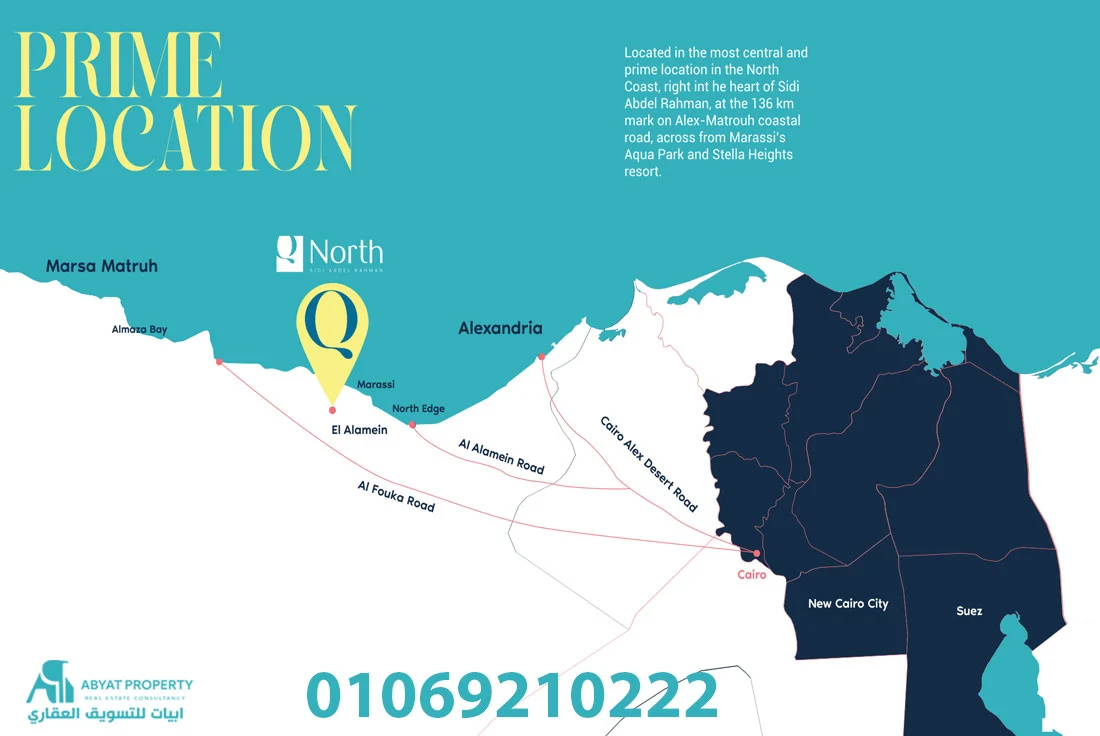 Each building in the village consists of G+1 floors. Here is a list the available units in Q North and their prices:
a 1 bedroom chalet with a 55 m² start price is 1,700,000 EGP.

A 2 bedroom chalet of 90 m² start at 2,700,000 EGP.

A 3 bedroom chalet of 120 m² start at 3,700,000 EGP.

There is also a Twin house of 200 m² start at 6,500,000 EGP.
The delivery date for these units is expected to be after three years. Overall, Q North Sidi Abdel Rahman offers a range of affordable and luxurious options for those seeking a comfortable and stylish summer residence in the North Coast region.
Q North Coast Payment Systems
Q North Al Sahel offers a flexible payment plan designed to make the payment process easier for all customers. 
The installment plan includes a low down payment of only 10%, with an additional 5% due upon delivery, and the remaining amount can be paid over 7 years.
Reserve your chalet by paying a reservation deposit of only 25.0000 EGP.
You can also reserve a twin house with a reservation deposit of 50.000 EGP only.
Don't miss this opportunity to invest in a beautiful coastal unit. Contact us now on 00201011564040 to reserve your villa and start living your dream life in QNorth Coast.
 About Q Developments
Q Developments is a joint stock company based in Egypt, established in 2016. It has several subsidiaries, including Jumeirah Misr Construction, IG Capital, Q Asset Management Companies, Q Tourism Investment Company, and Q Art House Furniture Company, of which it owns a majority share. 
The company's first focus was on three projects in Egypt's North Coast and Alexandria, with total investments of 9 billion EGP.
The company is committed to providing its customers with luxury and enjoyment, as well as a wide range of facilities and amenities to ensure their comfort.
For More Info  about  City Of Odyssia Sabbour in Mostakbal City Call us 01069210222