Majada Ain Sokhna
Majada El Sokhna Resort is one of the most prominent tourism projects developed by IWAN Developments in Ain Sokhna City. This distinctive project enjoys a wonderful strategic location on the shore of the Red Sea as one of its best features.
Majada El Sokhna offers a wide range of luxury accommodation units with various spaces that suit all clients' tastes while providing the highest level of services and entertainment facilities to ensure the comfort of customers and their families. 
For reservations and more inquiries about Majada El Sokhna prices, contact 00201011564040.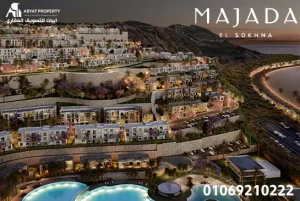 Majada El Sokhna Location
The location of Majada Village in Ain Sokhna was chosen carefully by IWAN Developments, as the village is located in one of the best areas in Ain Sokhna, specifically 2 kilometers away from Galala City.
The city of Galala is distinguished by a group of vital facilities and various services such as schools, universities, medical centers, hotels, and water parks. 
The location of Majada Sokhna is also distinguished by a wonderful view of the Red Sea and its proximity to many landmarks and prominent areas, which facilitates movement and travel from one place to another. 
The following is an overview of the most important geographical areas located near Majada El Sokhna location:
Majada Village is located near many tourist and entertainment attractions such as Marina Residence Galala City, which is only 3 km away from the village. 

The village is also located 5 km away from Porto Sokhna.

It is also only 4.5 km away from Il Monte Galala Resort.

Magada is also about 118 kilometers away from the New Capital City.

The village is also 30 Kilometers away from Ain Sokhna Port and Stella Di Mary Area.

It is also located near Zaafarana Road, at a distance of only 46 kilometers away.

The resort is also about 126 kilometers away from New Cairo City and near many entertainment and commercial areas such as New Galala City and Resort, Galala Water Park, and New Marina Yachts Port.

Many serviced hospitals provide medical services at the highest level in this region. 
Do not hesitate to reserve your own chalet in one of the best locations in Ain Sokhna City. 
For inquiries and reservations, contact us on 00201011564040.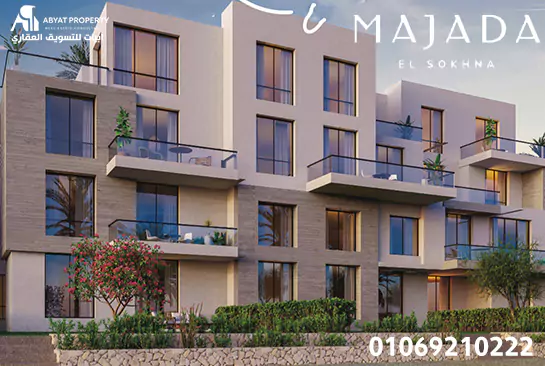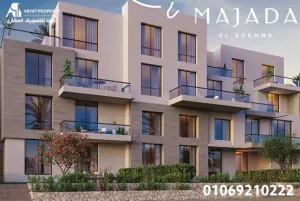 Majada El Sokhna Space 
Majada El Sokhna Village was built on a large area of 101 acres, and this space has been allocated to include all buildings, facilities, and recreational services. 
The beachfront of Majada extends for 600 meters, and the front area of the beach is more than 1 kilometer Square deep. 
The owner company gave attention to all the services and landscape in Majada El Sokhna Village, as the buildings occupy a very small percentage of the total area only 13.5%, while facilities and recreational services occupy the largest percentage, about 85.5% of the total area.
Majada Resort includes a wide range of residential units with different spaces that suit all its clients' tastes such as stand-alone villas, twin houses, duplexes, and chalets.
All the units in Majada enjoy a stunning view of the Red Sea beach or the most beautiful artificial lakes.  
Majada El Sokhna Units' Spaces
Magada Sokhna offers a variety of accommodation units to meet all the needs of its clients, and these spaces come as follows:
There are stand-alone villas with different spaces starting from 250 square meters up to 515 square meters.

Twin houses are available in Majada with spaces starting from 160 SQM up to 190 SQM.

Duplexes are also available with spaces ranging from 170 SQM up to 230 SQM.
Chalets Spaces:
The spaces of one-bedroom chalets start from 65 sqm up to 70 sqm.

Two-bedroom chalet spaces start from 95 SQM up to 120 SQM.

Three-bedroom chalets start from 110 square meters to 170 square meters.
Majada El Sokhna Prices
IWAN Developments Company has offered units in Majada El Sokhna at very competitive prices to suit a large group of customers and investors wishing to own a distinctive unit in Galala City. 
The following is an overview of Magada Ain Sokhna prices:
Chalet prices in Magada Ain Sokhna start from only 2,300,000 EGP.
Take the initiative to reserve your unit in Magada Ain Sokhna and enjoy unique and unparalleled holidays away from the hustle and bustle of the city. Contact us now on 00201011564040.
Majada Village Payment Plans 
Majada El Sokhna project provides flexible installment plans so that customers can own distinctive coastal units in one of the most prestigious villages in Ain Sokhna. 
The following is an overview of the payment plans in Majada Village:
You can buy your own chalet in Majada Ain Sokhna, by paying only a 10% down payment, then paying 10% after one month, and the rest in installments over 9 years.

Paying a 10% down payment, then paying 5% after one year, and the rest in installments over 8 years in equal monthly installments.

All the residential units will be delivered after 4 years from the date of contracting.
Reserve your unit now in Majada Village, and enjoy your chalet with a direct view of the Red Sea. For reservations and inquiries, contact us at 00201011564040.
Majada El Sokhna Services  
Majada El Sokhna Village contains a wide range of services that meet the needs of residents and visitors. The following is an overview of the most prominent services of Majada El Sokhna:
The village includes a group of Kids areas for children to spend an enjoyable and entertaining time in.

The village offers many beach activities where you can enjoy the soft sand and water activities such as swimming and diving.

There are designated areas for yoga and relaxation where you can enjoy and feel inner peace and balance.

There are quiet reading areas where you can enjoy your favorite book in a quiet and relaxing atmosphere.

The village contains supermarkets and a commercial mall that includes a variety of shops to meet all residents' needs.

There are a variety of cafes and restaurants serving the most delicious drinks and dishes.

You can enjoy a wonderful view of the artificial lake located in the middle of the resort.

There is a high-level medical service available within the resort, including a large medical center, specialized medical clinics, analysis laboratories, and radiology units. 

There is also a pharmacy that serves all the residents with all medicines and personal care products.

There is a full health club that includes a Gym, Spa, and Jacuzzi.  
These services aim to provide a comfortable and enjoyable experience for Majada Village's residents and visitors. Reserve your unit now by contacting us on 00201011564040.
Advantages of Majada El Sokhna 
In addition to the previously mentioned services that Majada Village enjoys, there are a group of features and advantages that Majada Village offers to provide the highest degree of comfort and luxury to its customers during their accommodation in the village, and among those features that the village provides are the following:
Majada El Sokhna Village provides its residents with an entertainment clubhouse where the village residents have enjoyable times.

Majada village contains a sports club for practicing various sports, such as football, basketball, tennis, and other sports.

The village also contains a social club suitable for all family members to have enjoyable and entertaining times.

Majada village includes a mosque with an Islamic style for performing all Islamic prayers.

The village provides its residents with a security service at the highest level provided by a group of security and guard personnel trained to secure the village and its entrances 24 hours a day.

Majada has high-quality surveillance cameras distributed everywhere to monitor the village throughout the day and impose the greatest amount of protection inside it.

Majada contains many garages to regulate car parking inside the village and prevent their accumulation inside.
The advantages that Majada Village offers to its residents do not end there. There are many other benefits that the village gives to its residents to give them the greatest amount of comfort and luxury. 
Just contact us at 00201011564040, and we will help you immediately by providing you with all the details and reserving your own unit in Majada Village. 
About IWAN Developments
IWAN Developments Company is the real estate developer of Majada Village. The company has a big experience in the real estate market, since its establishment 15 years ago.
IWAN Developments is distinguished by implementing distinctive and high-quality real estate projects.
The company is also always keen to choose strategic locations for all its projects located in various areas such as on 6 October, Sheikh Zayed, and Ain Sokhna Cities.
Among the projects implemented by IWAN Developments Company:
Jedar project.

Atrio project.

Jeera Project.

Jewar Alma Compound.

VIDA Project.

The Axis Compound project in October City.
All of these projects bear witness to IWAN Company's excellence and quality, and reflect its commitment to providing unique projects that meet customers' needs and provide them with a distinguished residential environment.
Own your chalet now in Majada Village and enjoy the most beautiful holidays on the sea with your family. Just contact now at No. 00201011564040.