Gaia North Coast Sabbour is one of the best projects of Al Ahly Sabbour Development, which is presented with many luxury units, characterized by a full view of the sea, green spaces, integrated facilities and services, and all of these were presented with the lowest prices, with only 5% down payment, and for the longest repayment period.
After achieving the largest percentage of sales in Amwaj North Coast project, Al-Ahly Sabbour Company launches a new tourism city on a 300 acres area in Ras El Hikma Bay at the North Coast. 
Gaia sabbour is located at kilo 194 from Alexandria- Matrouh Road, Close to a group of most known villages, like Mountain View, Marassi, and La Vista City. It is also distinguished by its closeness to many different roads. 
And below we'll give you a brief and some information about the location, spaces, and prices of Gaia North Coast Sabbour.
Location of Gaia sabbour
Gaia North Coast village, is considered one of the most important projects built by Al-Ahly Sabbour Company, which is distinguished by its excellent geographical location. 
Gaia sabbour is located at Alexandria-Matrouh road specifically at the kilo 194 in Ras al-Hikma Bay which is classified as one of the most beautiful beaches in the world, and it has a lot of geographical advantages as the following:
It is only 55 km away from Amwaj village, which is owned by the same company.

The village is also distinguished by its proximity to Alexandria city 88 km away. 

It is located only steps away from the exit of the new Fouka Road. 

Gaia sabbour is a link that connects Cairo city directly with the northern coast.

The village has 4 exits, one of which is directly on the Ras al-Hikma Bay area.

It is also considered one of the projects very close to the new city of El Alamein, El Alamein Airport, and the Arab Airport.
Your location in Gaia North Coast makes you benefit from staying there through the many services that Al-Ahly Sabbour provides to you in this project.
In addition to all the previous location features that the village has in Ras al-Hikma Bay area, there is another advantage for its location that It is located close to the heritage and cultural monuments area, which made it a front for tourism investment.
Finally, Gaia Sabbour is surrounded by all the important roads on every side, such as the new Fouka Road, Al-Dabaa, and others.
Space and design of Gaia North Coast
Gaia North Coast Sabbour village is built on a large plot of land in a 300 acres area. It includes a large number of apartments and villas with different sizes and super luxe finishing. The vast area in the village is dominated by green spaces, artificial lakes, and landscapes. And it is designed for you to enjoy privacy and a distinctive and attractive view.
The company announced that the construction rate does not exceed 20% in the village. And the rest of the space in the project will contain a variety of endless services and facilities.
Units' prices and spaces in Gaia North Coast
Al-Ahly Sabbour Company, the owner of this project, offers a wide range of different unit spaces. These units include a variety of chalets, villas, townhouses, and twin houses. 
As for the engineering design of these units, It is unique and innovative in a way that makes you enjoy a full and direct view of the sea.
You will take the advantage of the privacy inside your unit or villa in Sabbour North Coast project, which is surrounded by green spaces, with a charming, attractive, and comfortable view. It also gives a private space between each unit and the other to get more privacy and tranquility within the resort.
The prices offered in Gaia Sabbour project are very appropriate and within the reach of all customers. The prices and spaces in Gaia Sabbour village start as follows:
The spaces in the village start from 175 meters.

Prices in Gaia start from the first 12,300,000 L.E.
Payment Plan in Gaia Sabbour
The company offers several systems that suit all its customers, by which you can own your unit easily. Whatever your financial circumstances in Gaia North Coast, you can benefit from this following system:
Paying 10% down payment and the rest in installments over 8 years in equal installments.
Villas in Gaia North Coast
Own your Villa by the sea and enjoy the summer in nature, swimming pools, and sandy beaches. Create new memories with your family in a European village designed in a way that makes it the most beautiful part of the North Coast. Gaia Sabbour is a clear opportunity to experience a new and enjoyable experience on the coasts of the Mediterranean Sea.
Concerning the types of tourism units established in the village of Gaia Sabbour, They are very diverse and multiple units.
Gaia Sabbour features & services
There are multiple services and entertainment activities that help you enjoy every moment with your family and children on the beaches of the most beautiful coasts in the Mediterranean, Ras El Hikma Bay, These services are mentioned below.
One of the first features in the village of Gaia North is the view overlooking the sea and surrounding green spaces that makes you more comfortable and relaxed.

The village includes a hotel, which is designed in European style, located in the middle of the village. This hotel is ready to receive the largest number of visitors and customers in the village of Gaia North Coast.

Among the features that you will find in Gaia village are the sandy beaches, at the Gulf of Ras al-Hikma which is known for its sandy beaches, and a stunning view of the blue color sea that fascinates all eyes.

Among the most important services that you will find in the village is a specialized office that provides services such as providing maids and cleaners for the village, And individuals with professional professions such as plumbing, maintenance, electricity, etc.

Gaia village North Coast, is distinguished by its large areas of attractive artificial lakes and green spaces. There is also a tourism walkway for jogging, walking and cycling away from the car path in the village.

The village has an aqua park in a large area, and a variety of swimming pools, some of which are for children and others for women.

In addition to many places for entertainment, There is also a Kid's area for children to spend an enjoyable time.

There are many sports and social clubs in the resort, in addition to a fully equipped health club for all resort residents.

For your daily needs, In Gaia village, there is a complete commercial area and a hypermarket that operates throughout the day to serve the residents of the village.

There is also a professionally trained security and guard team in the village to guarantee its safety. 

The resort has a lot of security cameras widely spread in all resort corners for more safety.
All provided services in this project which are elegant and distinctive within the village will not end. 
Every unit in Gaia Sabbour enjoys a set of different services that surround it, So own your villa and book your place now with comfortable installments and with interest-free, in the largest service and entertainment city provided to you by Al-Ahly Sabbour Company on Ras Al-Hikma Bay, North Coast.
Gaia Sabbour Phases
Gaia Sabbour village North Coast has many distinct phases, which were introduced successively with unique and modern designs that integrate with the beauty of the coastal nature on the Mediterranean coast. Among the most prominent of these phases launched by Al-Ahly Sabbour Company during this project are the following:
Jasmine Gaia is the third phase of the Gaia Sabbour North Coast project, this phase is located at kilometer 194 on Alexandria-Matrouh Road in Ras Al-Hikma Bay area, and it is only 55 kilometers from Amwaj village, which is owned by the company.
Jasmine Gaia is characterized by its modern and unique design, which distinguishes it from the rest of the other phases in the village.
NAZ Boutique Cabanas phase
Naz is one of Gaia's bohemian and upscale phases that aims to transcend the ordinary.
This stage sails in a bohemian environment that goes beyond the ordinary, as it is located specifically in one of the magical locations in Ras Al Hikma on a sandy beach that is distinguished by clear waters.
This phase was created to be a destination that was created for your peace of mind, while providing all the services that would make you comfortable, including room service and housekeeping.
This phase also offers a wide range of restaurants to create an unforgettable experience that satisfies everyone's tastes.
Camilla Lagos is the latest phase of Gaia Sabbour Ras El Hikma project, whose units were designed at the highest level of quality, to integrate with the distinctive designs for all phases of the project presented by Al-Ahly Sabbour Company, during which chalets are offered to be delivered in 2026 with competitive spaces and prices and on the longest possible repayment period.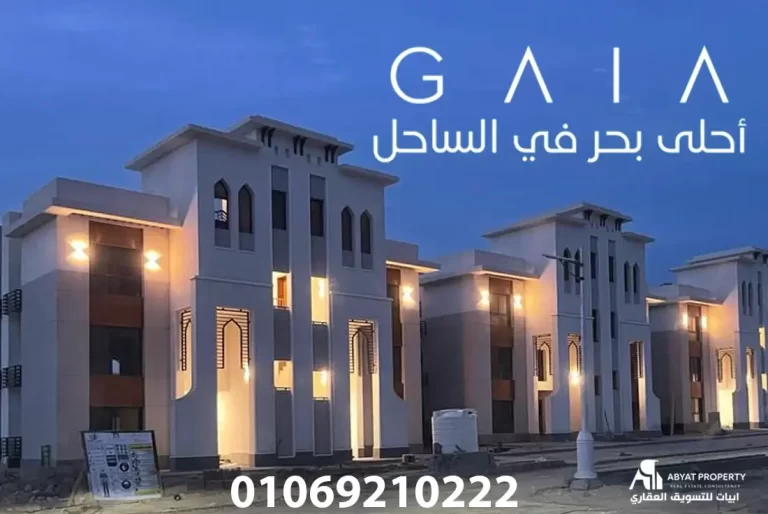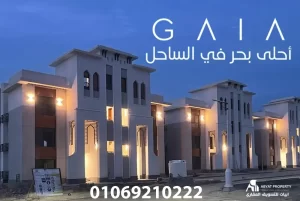 Gaia North Coast Sabbour has other phases that is launched in this project by Al-Ahly Sabbour Development, and below are two of the most prominent of those phases:
Gaia's Latest Phase
Recently, Al-Ahly Sabbour Development Company announced that it is currently implementing a new phase in Gaia North coast, and the company indicated that this phase will include 150 coastal units that vary between stand-alone villas and townhouse units with spaces starting from 175 square meters.
– All the units in Gaia's latest phase will be delivered in the summer of 2025.
The owner company of Gaia North Coast
Al-Ahly Sabbour is a name that carries many advantages in the real estate development market. And for those who do not know it, it is one of the largest and most experienced companies in the real estate market in Egypt. 
Al-Ahly Sabbour was established in 1994 and has a long history with more than 27 years of experience in the implementation and development of real estate projects.
During its career, Al-Ahly Sabbour achieved many distinguished achievements., and managed to become the largest competitor in the real estate market, It occupies first place with its engineering designs, competitive prices, and the experience it has, which contributed to that success. 
As for the founder of this company, he is a well-known businessman in real estate market, who is experienced in a lot of projects in this field.
Engineer/ Hussein Sabbour.
Al-Ahly Sabbour company is a shareholding company founded as a result of the partnership between Eng. Hussein Sabbour, who owns 60% of the company's shares, and the other shares belong to the other partner, Al Ahly Bank, which contributes to the company's projects by 40%.
The company has carried out a wide range of projects until the company's name became a distinctive mark, Today, as soon as the company announces any new building, customers rush to reserve their places in it. This is back to their confidence in the company and the quality of every project it develops, and designs, in addition to many advantages that the name Al-Ahly Sabbour enjoys in the real estate market.
Some of the company's previous work:
Layan Compound in New Cairo City.

Piacera village located in Ain Sokhna.

Lavender project in New Cairo.

Green Square Compound Fifth Settlement.

Amwaj North Coast Village.

Keeva Compound 6 October.
Al-Ahly Sabbour Company, in designing the village of Gaia, North Coast, set several goals, the first and most important of which is that this edifice be an opportunity for everyone who desires a summer unit on the North Coast, Whether families or investors.
These are some of the most important information about an integrated village, And about the huge entity that owns it, Invest, own and enjoy nature, sandy beaches and green spaces. The lowest price per meter in installments in Gaia North Coast.
To know more about other projects in the North Coast
mountain view north coast.

Dbay North Coast.

Cali Coast North Coast.

John Sodic North Coast.

Bianchi village North Coast.

Azzar North Coast.
Reserve your unit now in Gaia Sabbour North Coast, with just a 10% down payment, and installments up to 8 years.
Just contact us now at 00201011564040, and one of our sales representatives will respond to provide you with all the details of Gaia North coast.
For More Info  about  City Of Odyssia Sabbour in Mostakbal City Call us 01069210222


احجز وحدتك الآن بتسهيلات في السداد