Il Bosco New Capital came as a continuation of the overwhelming success achieved by Misr Italia Development continuously; It reshapes your living experience and upscale lifestyle in a luxurious community. 
Il Bosco New Capital Egypt is an environment resembling a forest with integrated services, that offers you and your family distinct residential units that vary between apartments, penthouses, twin houses, and standalone villas units, with amazing urban designs that mimic European styles in their beauty and magnificence.
The project is built on a huge area of ​​about 200 acres with vast green spaces and artificial lakes that provide you with the psychological comfort you looking for. 
There are also service facilities such as various clubs, restaurants, cafes, and entertainment places that add a kind of luxury.
The owner company was also keen to choose an ideal location for its new project, Il Bosco New Capital, away from noise sources, pollution, and congestion in cities, all of this and more at reasonable prices and long payment systems that suit your taste.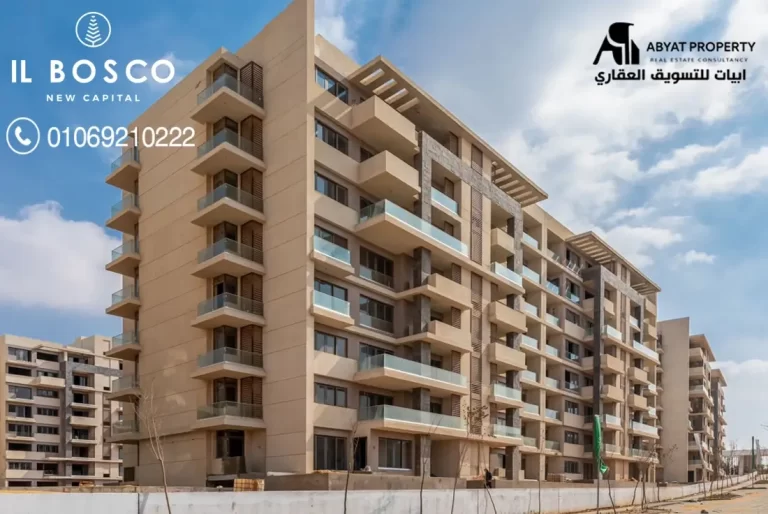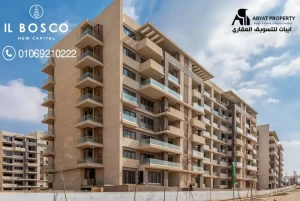 Il Bosco New Capital Location
The real estate developer was interested in constructing Il Bosco Misr Italia in the most prestigious places in the heart of the New Capital, which includes many vital places, government institutions, banks, residential compounds, administrative offices, and other recreational facilities that provide the residents of Il Bosco New Capital with everything they need.
The most important advantages of IL Bosco Compound location come as the following:
It is located on the Mohammed bin Zayed axis

directly, which facilitates transportation to and from it. 

It has a magnificent view of the Green River (the largest garden in the world).

It is a few minutes away from the Opera House.

Il Bosco New Capital, is located next to the Diplomatic Quarter and the Fairgrounds.

It is also a short distance from the famous Teseen Street, and about 30 minutes away from Cairo International Airport.

The distance between IL Bosco Compound and New Cairo is only about 10 minutes.

It is located near the Medical City and the Academic City.

It is close to the Midtown Sky project.
IL Bosco Compound Design
Misr Italia Development Company presents Il Bosco New Capital with a wonderful design to enjoy a luxurious residence secluded from the outside world. 
The compound features eye-catching designs that your eyes can taste; As every detail has been paid attention to provide the luxurious modern life you have always wanted along with the best services and benefits that provide you with all your needs.
The project also offers a variety of residential units with exquisite interior designs and large glass facades through which golden sunlight penetrates. 
There are luxury apartments, twin houses, and separate villas with spaces that vary according to your taste and needs. 
Il Bosco New Capital Phases
Il Bosco New capital Egypt has different phases that include a group of best residential units and facilities make it an iconic project in the heart of the New Capital City. 
And next is some of these phases that come as the following:
The Park phase constitutes the largest phase within IL Bosco New Capital City and works to connect all parts of the project. This phase consists of villas, apartments, play areas, corridors, and a social center. It also includes a number of wonderful features that can be clarified through the following:
Now you can enter your home in a safe and easy way with our "keyless Home Entry".

For more safety; There is a "Light Motion Detection" that lights up electronically when it detects any object moving towards your home.

The units are equipped with high-level wired and wireless technologies; such as the "Triple Play Technology".

Lobby Sound System and CCTV are available inside the phase for more added luxury.
The Meadows phase 
The Meadows is a new residential phase located at the highest point within IL Bosco New Capital City.
It has its own distinctive character and wonderful urban style, and gives the residents a different feeling from other areas of IL Bosco Compound. 
The Meadows is unique with its stunning gardens, wild flowers and beautiful local plants; which gives you a feeling of comfort and calmness, where the wonderful streams and waterfalls link many parts of IL Bosco New Capital.
The Cliff Phase 
The Cliff is the latest phase of Il Bosco New Capital City which is located at the highest point in Il Bosco project and consists of a group of luxury townhouses, twin houses, and standalone villas that surround the lake. 
The Cliff phase also includes within it a distinctive club that includes a swimming pool and a unique and luxurious restaurant.
Il Bosco New Capital Services and Features
Misr Italia Development has designed Il Bosco in a distinctive international manner that combines luxury and elegance of lively designs at the same time, these services and features provided in Il Bosco comes as the following:
There are many parks inside the compound that give the residents the chance to breathe fresh air continuously.

A dedicated track for walking, jogging or running in the wide gardens.

Dancing water fountains to take special souvenir photos with your family and friends.

The compound also includes administrative offices with different spaces.

Cinemas provide the most beautiful international films, designed with comfortable and elegant furniture.

There is inside Il Bosco a cultural center with a theater of 10,000 square meters that offers many special shows.

There is a group of swimming pools with different sizes and depths that suit all group ages.

A high-level security system to keep the compound safe 24-hour a day.

There are many surveillance cameras around the compound to keep it safe all the time.

There is a mosque inside the compound for residents to do all prayers.

The project includes a group of restaurants and cafes that serve the most delicious dishes and beverages.

The project includes a huge mall with an area of ​​90,000 square meters that includes many luxurious shops that provide people with high-end brands.

A sports club that fully enjoys the various daily activities and facilities; where you can practice sports such as football and swimming.

The owner company did not neglect the educational aspect, as it has established international schools and nurseries that provide excellent educational services.

And for those who like to maintain their physical fitness, there is a gym in the Il Bosco project equipped with the latest sports equipment.

The residents' health was also considered in Il Bosco New Capital, through the presence of medical centers with all specialties, and a pharmacy with all kinds of medicines and treatment services available.

Modern electric elevators that help you move from one floor to another with ease and ease within

IL Bosco New Capital

.
Il Bosco New Capital Unit Spaces 
Il Bosco Misr Italia provides its residents with a lot of features that provides them with a unique experience by integrating different amazing architecture and landscapes.
Il Bosco project was planned to provide you with an integrated community on a ​​200 acres area to include different unit types that vary between apartments, penthouses, townhouses, twin houses, and stand-alone villas to satisfy all its customers' tastes. And next we will give you all information about unit's spaces inside il Bosco:
Apartment spaces in Il Bosco start from 126 square meters up to 194 SQM.

Penthouse spaces start from 273 square meters up to 327 SQM.

Twin house spaces start from 254 square meters up to 290 SQM.

Townhouse spaces start from 251 SQM.

Standalone villas' spaces start from 382 square meters up to 530 SQM.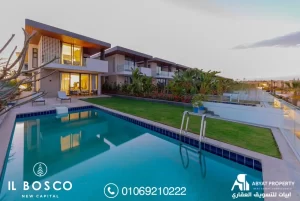 Il Bosco New Capital Unit Prices 
Misr Italia Development Company was keen to provide various residential units within IL Bosco New Capital City Compound at reasonable prices to achieve what the residents need from luxury and privacy. 
The distinctive price package for IL Bosco project comes as follows:
Unit Prices in

Il Bosco New Capital

City start from only 3,400,000 EGP.
Il Bosco New Capital Payment plans 
Misr Italia provides its clients in Il Bosco with flexible payment plans and installment methods that are easy and convenient to suit all tastes and different capabilities of clients and investors. 
The client can pay a 5% down payment, and the rest can be paid in equal installments over 8 years.

The unit value can be paid over 9 years without a down payment and with annual interest determined according to the total price.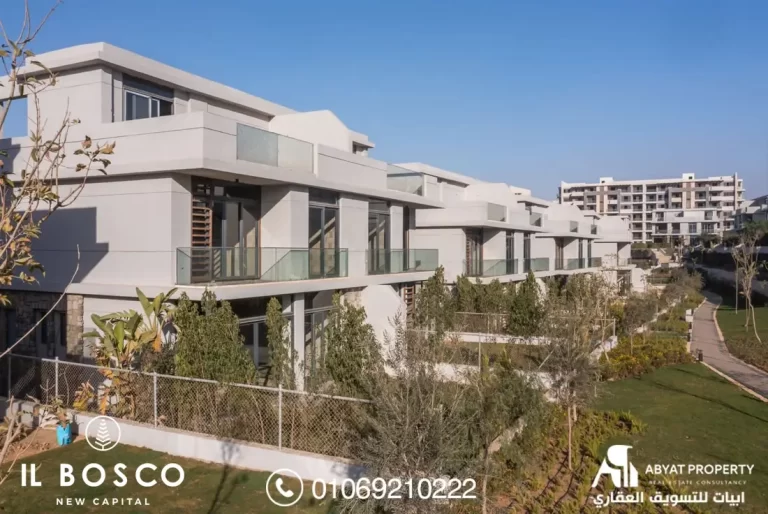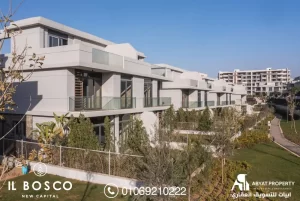 About the Developer company
Misr Italia is a leading real estate development company in Egypt that expands across a range of high-end projects in separate regions in Egypt.
The company has a clear goal of exclusivity in the ever-growing Egyptian real estate market, by listening to our clients who inspire us to stay ahead of other real estate companies through the range of designs and urban solutions that we continuously innovate.
In cooperation with major engineering design companies, Misr Italia is now presenting one of its most important and luxurious residential communities in the heart of the New Capital, which is IL Bosco New Capital project, which is distinguished by its picturesque geographical location and urban designs that captivate hearts, in addition to a group of distinguished and high-end services and facilities.
Take advantage of this rare opportunity in one of the most growing cities in Egypt, The New Administrative Capital, and reserve your own unit in Il Bosco New Capital.
Just contact us now at 00201011564040, and one of our sales representatives will reply to you to provide you with all the details of Il Bosco New Capital Compound.